Social-Political Issues

The Psychology of Totalitarianism – III
A Fanatic Solidarity with the Collective
Once people who used to feel lonely, anxious and out of control start to participate in the strategy presented to them as the solution to their anxiety, a brand-new social bond emerges. This, then, reinforces the mass hypnosis, as they now no longer feel isolated and lonely.
This reinforcement is a kind of mental intoxication, and is the real reason why people buy into the narrative, no matter how absurd. "They'll continue to buy into the narrative, because it creates this new social bond," Desmet says.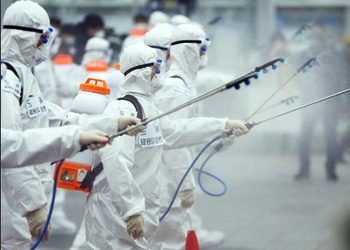 The exaggeration of the preventive measures were meant to increase anxiety & produce panic
While social bonding is a good thing, in this instance it becomes extremely destructive, because the free-floating frustration and aggression are still there, and need an outlet. These emotions need to be directed at someone. What's worse, under the spell of mass formation, people lose their inhibitions and sense of proportion.
So, as we've seen during the COVID pandemic, people will attack and lash out in the most irrational ways against anyone who doesn't buy into the narrative. The underlying aggression will always be directed at the part of the population that isn't hypnotized.
Speaking in generalized terms, typically, once mass formation is taking place, about 30% of the population will be hypnotized – and this typically includes the leaders who pronounce the hypnotizing narrative to the public – 10% remain unhypnotized and do not buy into the narrative, and the majority, 60%, feel there's something wrong with the narrative, but go along with it simply because they don't want to stick out or cause trouble.
Another problem with the social bonding that emerges is that the bond is not between individuals, but rather a bond between the individual and the collective. This gives rise to a feeling of fanatic solidarity with the collective, but there's no solidarity toward any given individual. So, individuals are remorselessly sacrificed for the "greater good" of the faceless collective.
"This explains, for instance, why during the Corona crisis, everybody was talking about solidarity, but people accepted that if someone got into an accident on the street, you were no longer allowed to help that person unless you had a surgical mask and gloves at your disposal.
That also explains why, while everybody was talking about solidarity, people accepted that if their father or mother was dying, they were not allowed to visit them," Desmet says.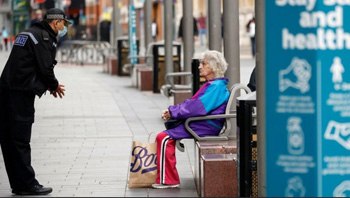 An anxious policeman tries to oblige
a skeptical old lady to wear a mask
In the end, you end up with a radical, paranoid atmosphere in which people do not trust each other anymore, and in which people are willing to report their loved ones to the government.
"So, that's the problem with mass formation," Desmet says. "It's solidarity of the individual with the collective, and never with other individuals. That explains what happened during the revolution in Iran, for instance. I talked with a woman who lived in Iran during the revolution, which was actually the beginning of a totalitarian regime in Iran.
She witnessed, with her own eyes, how a mother reported her son to the government, and how she hung the rope around his neck just before he died, and how she claimed to be a heroine for doing so. That's the dramatic effects of mass formation."
With no external enemy, what happens?
We're now facing a situation that is more complicated than at any previous time, because the totalitarianism that is now arising has no external enemies, with the exception of citizens that aren't hypnotized and don't buy into the false narratives. Nazi Germany, for example, was destroyed by external enemies that rose against it.
On the other hand, there's advantage to this, because totalitarian states always need an enemy. That's something that was very well described by George Orwell in his book "
1984
." In order for the process of mass formation to continue to exist, there must be an external enemy onto which the state can focus the aggression of the hypnotized masses.
Non-violent resistance & outspokenness are crucial
This brings us to a key point, and that is the need for non-violent resistance and speaking out against the narrative. Violent resistance automatically make you a target for aggression, so "resistance from within a totalitarian system always has to stick to the principles of non-violent resistance," Desmet says. But you must also continue to speak out in a clear, rational and non-abusive way. Desmet explains:
"The first and foremost principle the resistance has to stick to during a process of mass formation and emerging totalitarianism, is that people who do not go along with the masses have to continue to speak out. That's the most crucial thing.
As totalitarianism is based on mass formation, and mass formation is a kind of hypnosis, the mass formation is always provoked by the voice of the leader, which keeps the population in a process of hypnosis. And when dissonant voices continue to speak out, they will not be able to wake the masses up, but they will constantly disturb the process of mass formation.
They will constantly interfere with the hypnosis. If there are people who continue to speak out, the mass formation will usually not become so deep that there is a willingness in the population to destroy the people who do not go along with the masses. That's crucial.
Historically speaking, if you look at what happened in the Soviet Union and in Nazi Germany, it's clear that it was exactly at the moment when the opposition stopped to speak out in public that the totalitarian system started to become cruel.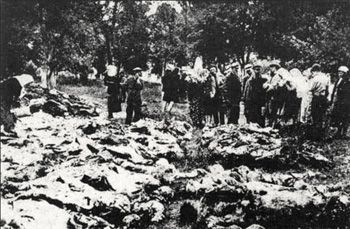 Stalin mass-murdered millions in the 1930s
In 1930, in the Soviet Union, the opposition stopped to speak out, and within six to eight months, Stalin started his large purges, which claimed tens of millions of victims. And then, in 1935, exactly the same happened in Nazi Germany.
The opposition was silenced, or stopped to speak out. They preferred to go underground. They were thinking that they were dealing with a classical dictatorship, but they were not. They were dealing with something completely different. They were dealing with a totalitarian state.
And
by deciding to go underground, it was a fatal decision for themselves
. So, also in Nazi Germany, within a period of one year after the opposition stopped to speak out in public, the cruelty started and the system started to destroy first its opponents. That's always the same.
In the first stage, totalitarian systems or the masses start to attack those who do not go along with them. But, after a while, they just start to attack and to destroy everyone, group after group.
And, in the Soviet Union, where the process of mass formation went very far, much further than in Nazi Germany, Stalin started to eliminate the aristocracy, the small farmers, the large farmers, the goldsmiths, the Jews, all people who according to him would never become good communists.
But after a while, he just started to eliminate group after group without any logic. Just everyone. So, that's why Hannah Arendt said that a totalitarian state is always a monster that devours its own children. And that destructive process starts when people stop to speak out.
That's probably the reason why, in the beginning of the 20
th
century, there were several countries where there was mass formation, but where there was never a full-fledged totalitarian state.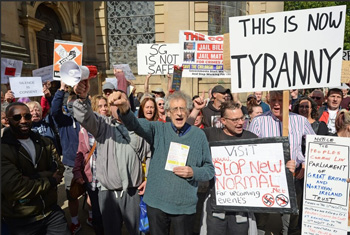 Pacific protests against the totalitarian state
help break the collective hypnosis
Probably, there were enough people who didn't shut up, who continued to speak out. That's something that is so crucial to understand. When mass formation emerges, people typically feel that it doesn't make sense to speak out because people don't wake up. People don't seem sensitive to their rational counter arguments.
But,
we should never forget that speaking out has an immediate effect. Maybe not that it wakes the masses up, but that it disturbs the process of mass formation and the hypnosis. And in that way, prevents the masses from becoming highly destructive towards the people who do not go along with them.

Something else also happens. The masses start to exhaust themselves. They start to destroy themselves before they start to destroy the people who do not go along with them. So, that's the strategy to be used for internal resistance towards totalitarian regimes
."
This article was first published on Transhumanism.News on July 1, 2022.
TIA divided the article in installments
Continued

Posted August 24, 2022
| | | |
| --- | --- | --- |
| Volume I | Volume II | Volume III |
| Volume IV | Volume V | Volume VI |
| Volume VII | Volume VIII | Volume IX |
| Volume X | Volume XI | Special Edition |