Socio-Political Issues

La Pira: A Catholic Communist - Part I
What La Pira Expected from the Council
What was it about Giorgio La Pira, twice Mayor of Florence, (1) that elicited the highest praise not only from Dorothy Day but also from Popes Paul VI, John Paul II (who opened his Cause in 1986) and Benedict XVI? And why was it that John XXIII had protected him from all criticism on the grounds that he was a Catholic and therefore beyond reproach? (2)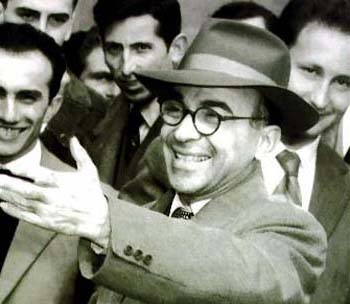 Giorgio La Pira extending a hand to Communism with a smiling, 'Christian' face
The answer, in a nutshell, is that they were all Catholics friendly to Communism.
Dorothy Day called him "a saint in politics" who "took the unused homes of the rich to make homes for the poor" without their owners' permission. (3)


Paul VI characterized him as "the example every Christian ought to keep firmly in mind during his earthly passage towards the kingdom of God." (4)


John Paul II said he was "an exemplary lay Christian" for "the entire Ecclesial Community" and recommended "everyone to cherish his teaching." (5)


Benedict XVI said that as "an eminent figure in politics, culture and spirituality of the last century," La Pira worked "for the cause of fraternal existence among nations," setting an example to present day Catholics for "a common effort to promote this basic good in various spheres: in society, politics, the economy, cultures and among religions." (6)


However, it seems to have been forgotten that there was a time – before Vatican II – when La Pira had been strongly criticized in the Vatican's newspaper,
L'Osservatore Romano
, for his pro-socialist views. As a Catholic working in collaboration with communists, he earned the nickname of "the little red fish in the holy water font." In particular, the newspaper expressed "shock" at his pro-communist activism and issued warnings to Catholics
not
to follow his example. (7)
Let us look at the teaching and example set by this "saint in politics" who is now being considered for formal canonization. Outwardly, La Pira presented himself as an extraordinarily pious Catholic. He attended Mass daily, read the Bible, lived for some years in a monastery cell and was often seen walking around Florence barefoot, having given his shoes, coat, umbrella and most of his salary to the poor. But his good works were accompanied by flamboyant and idiosyncratic gestures, (8) and inwardly he was not lacking in self-aggrandizing flights of fancy.
La Pira's dream of the Council
La Pira felt that Florence was a place called by Providence to produce a "great bridge of peace spanning the world" (9) and saw himself at the hub of that world-changing process. Incredibly, what should have been considered as, at best, a piece of comic fiction and, at worst, an advanced case of megalomania, was taken seriously by the Vatican, which published on its official website the following words by Italian journalist and close friend of La Pira, Vittorio Citterich: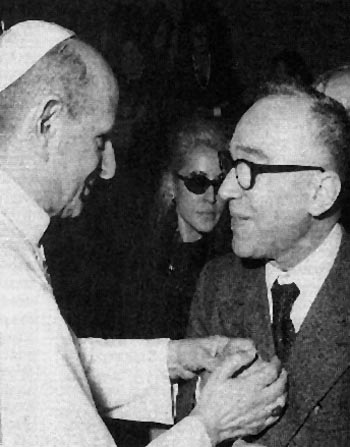 Paul VI praised La Pira highly and helped allay suspicions about his socialist policies
"On September 4, 1962, even before the [Conciliar] Assembly began, a contemplative in political activity like Giorgio La Pira ('the charismatic Mayor of Florence,'" as John Paul II defines him in his great prayer for Italy) seemed to sense its potential impact on the future:
"'How does the Council fit into the great perspective of the Church and the nations in this technical, scientific and space age which marks an unprecedented turning-point in the history of the world? An age in which war is disappearing, peace flourishes, the world is becoming united, ideologies are crumbling and the Church is emerging more and more every day, almost to enlighten it...'" (10)
Here La Pira shows himself to be one of those millenarian impostors who throughout history have sought to mobilize the masses of the poor towards a communistic dream of a Golden Age where everyone would supposedly live together in harmony. When these utopian dreams are put into practice, however, they have always resulted in widespread mayhem and bloodshed.
His "prophetic witness" has, however, been proved false on two counts. Not only have ideologies been given leave to flourish through Vatican II's "opening" to the world, but the light of Christianity has been almost totally extinguished from whole nations through the Council's failure to preach the Truth "in season and out of season." And so the Church has been reduced to a shadow of its former self, a mere plaything in the hands of would-be reformers like La Pira for the progress of humanity in a new social order.
On the eve of Vatican II, La Pira wrote a circular letter to the religious superiors of convents in an attempt to persuade them of the benefits of the revolutionary changes that the upcoming Council was about to introduce into the Church. He described it as a "new society in justice, hope, progress and freedom":
"The Council 'opens' … to all the most active schools of 'social' thought (in the broadest sense) which affect peoples all over the Earth and have been so decisively influential – and will continue to be so – in building a new science, a new culture a new economy and a new society in justice, hope, progress and freedom." (11)
But La Pira's dream was a mirage. It was that very "openness" of the Council to the modern world (celebrated by Pope John XXIII in his inaugural address) that weakened the Church by flooding her with ideas incompatible with Catholic doctrine.
Beneath La Pira's rhetoric we can discern a recycled version of the discredited Marxist theory of "historical inevitability," for he believed that he had insight into the driving force of history, the "hidden plan" on which the history of the world was built, and that his political action would guide it in the "proper" direction.
Unfortunately, the message of the Popes to follow La Pira as a leader of Catholic Action is tantamount to an endorsement of his political views which, as we shall see, were ideologically biased towards the most extreme Left of the political spectrum.
Continued
La Pira was Mayor of Florence from 1951-1958 and 1961-1965 i.e. before and during the Second Vatican Council


See here


Catholic Worker, October 1963


Wednesday Audience November 9, 1977


Letter of John Paul II To Card. Ennio Antonelli on the Occasion of the Centenary of the Birth of Giorgio La Pira, November 1, 2004


In a meeting with the National Association of Italian Local Authorities reported by the Catholic News Agency, April 26, 2004


See extracts from the L'Osservatore Romano in the archives of the Catholic Herald, e.g. here, here and here


Douglas Hyde, a well known convert from Communism, recounted that when La Pira was returning from his mayoral office in the Palazzo Vecchio, he "thumbed a lift on the back of a passing Vespa motor scooter, ridden by a teenage boy" and entertained his official guest to lunch "sitting on a landing at the top of the stairs in a home for juvenile delinquents". (Douglas Hyde, 'Hurricane Mayor', Catholic Herald July 15, 1955, see here


La Pira, Letter of 28 October 1970, quoted by Giulio Andreotti in 30 Days Magazine, February 2004


Vittorio Critterich, 'And the Church becomes News for the World'


See here.



Posted March 22, 2013