Secret Forces
President of French Bishops' Conference
Is a Freemason
From the
Riposte Catholique
comes the report that the new leader of France's Bishops is George Pontier, Archbishop of Marseille. He succeeds Card. Vingt-Trois, Archbishop of Paris, who has served two terms.
Age 70, the new President of the Bishops Conference is a strong advocate of interfaith dialogue, notably with Islam, France's second largest religion. In 2009, he praised Islam during Ramadan, telling Catholics they must, "go beyond themselves to discover the values" conveyed by the Muslim religion and make a greater effort to be friendly to the Muslims living in France.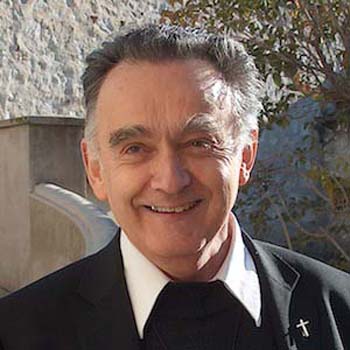 Above, George Pontier, Bishop and Freemason; below, a Masonic ritual, now attended by Catholics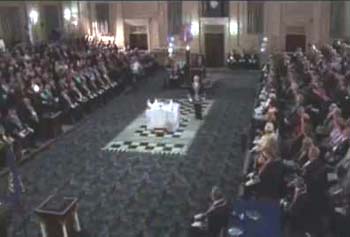 The Archbishop of Marseille, a past chairman of CEFAL (France - Latin America Episcopal committee), also clearly favors liberation theology, which pleases the progressivists.
And just as the
Italian Freemasons applauded
the choice of Francis as Pope, the Masons of France enthusiastically praised the election of Archbishop Pontier as head of the French Bishops' Conference. Indeed they should, since Archbishop Pontier is a member of the Grand Orient of France.
According to the fore-mentioned post, he has even attended Freemason meetings regularly. Questioned by the faithful on the subject during a pastoral visit, Pontier did not deny his membership in Freemasonry even though it is contrary to Church law and tradition.
As shocking as this revelation that the head of the French Bishops is a Freemason is the silence of the Catholic press on the topic. Almost no comment has been made on Archbishop Pontier's stance.
One can only wonder what Pope Leo XIII would think about the present state of affairs in the French Hierarchy. It is not difficult to guess that he would take action to stop the Mason's bold plans to "combine together" evil with the good, as he warns in his Encyclical
Humanum genus
on Freemasonry, of April 2, 1884:
"What, therefore, the sect of the Freemasons is, and what course it pursues, appears sufficiently from the summary we have briefly given. Their chief dogmas are so greatly and manifestly at variance with reason that nothing can be more perverse. To wish to destroy the religion and the Church which God Himself has established and whose perpetuity He insures by His protection, and to bring back after a lapse of 18 centuries the manners and customs of the pagans, is signal folly and audacious impiety.
"Neither is it less horrible nor more tolerable that they should repudiate the benefits which Jesus Christ so mercifully obtained, not only for individuals, but also for the family and for civil society, benefits which, even according to the judgment and testimony of enemies of Christianity, are very great.
"In this insane and wicked endeavor, we can see the implacable hatred and spirit of revenge with which Satan himself is inflamed against Jesus Christ. So also the studious endeavor of the Freemasons to destroy the chief foundations of justice and honesty and to co-operate with those who would wish, as if they were mere animals, to do what they please, tends only to the ignominious and disgraceful ruin of the human race." (n. 24)

Posted June 10, 2013