Among the lobbing groups that control the social anti-Christian machine, The Elders received attention this past July from the media. The Elders is a group whose apparent head is South-African Nelson Mandela and whose sponsors are millionaire Richard Branson (the Virgin Group) and musician Peter Gabriel (The Peter Gabriel Foundation), both Britons.

Just for the launching of their lodge in 2007 they raised 9 million English sterling pounds.

According to official information, The Elders "are an independent group of eminent global leaders, brought together by Nelson Mandela, who offer their collective influence and experience to support peace building, help address major causes of human suffering and promote the shared interests of humanity."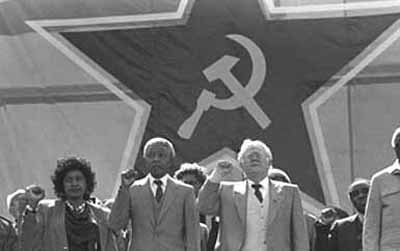 After his liberation in 1994 Mandella continued to profess the Red Creed. Here with Joe Slovo, president of the South African Communist Party

On July 2, 2009, The Elders publicly stated that it would exert pressure on the "traditional religions" to change their principles and allow women to become ministers, priests and bishops. This is just the first action of its project titled Equality for Women and Girls.

"As Elders, we believe that the justification for discrimination against women and girls on grounds of religion or tradition, as if it were prescribed by a higher authority, is unacceptable," the declaration reads.

It calls on all leaders "to promote and protect equal rights for women and girls." In particular, it asks religious and traditional leaders "to set an example and change all discriminatory practices within their own religions and traditions."

The spokesman for this initiative is ex-President Jimmy Carter, who recently left the Baptist Southern Convention after some 60 years of membership because of its treatment of women and girls. He announced that he would join ex-UN head Koffi Annan, Anglican bishop Desmond Tutu, Brazilian ex-president Fernando H. Cardoso and the other members of The Elders to fight for religions to stop discriminating against women.

Similar societies

The new group has close relations with the European Council on Foreign Affairs through its co-director, Mabel van Orange, who is also The Elder's executive officer. It also has close links with the Open Society Institute of billionaire George Soros.

The 12 Elders

The Elders were founded in 2007 under the initiative of Nelson Mandela. He and eleven other "global leaders" constitute the visible heads of the group. (1) Among the 12 are various heads of international abortion and homosexuality groups as well as promoters of a new universal religion through groups with varying goals, such as Planetary Ethics, Earth Charter, and the Alliance of Civilizations. They include:

Kofi Annan of Ghana - ex-UN secretary, promoter of abortion and homosexuality;

Ela Bhatt of India: awarded the Right Livelihood Award, considered an alternative Nobel Peace Prize;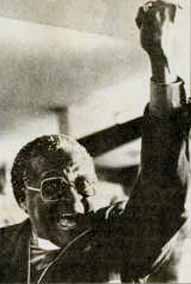 Desmond Tutu gives the Marxist power salute at the 1983 National Forum for Black Consciousnesss

Lakhdar Brahimi of Algeria - ex-special deputy of the Secretary-General of the UN (2004); member of another lobby group made up of political leaders called the Global Leadership Foundation;

Gro Brundtland of Norway - ex-prime minister; established and chaired the UN World Commission on Environment and Development,ex-director of the World Health Organization; co-founder of the Global Government Commission; pro-abortion and pro-homosexuality;

Fernando Henrique Cardoso: ex-president of Brazil; founder of the Global Government Commission (2);

Jimmy Carter: ex-president of the US; founder of the Carter Center to advance human rights;

Graça Machel – the third wife of Nelson Mandela;

Mary Robinson: ex-president of Ireland; ex-High Commissioner of Human Rights; promotes abortion and the international gay lobby; one of the driving forces behind the Ethical Globalization Initiative;

Desmond Tutu - Anglican bishop; pro-gay and pro-abortion;

Muhammad Yunus - founder of Gramenn Bank;

Aung San Suu Kyi - ex-political activist of Burma/Myanmar.


1. The first list in 2007 listed Li Zhaoxing, ex-minister of Foreign Relations in Communist China, as a member.
2. For more data, see J. C. Sanahuja, El Desarrollo Sustentable. La Nueva Ética Internacional, Vórtice, Buenos Aires.

Posted September 21, 2009

Juan Sanahuja first published this article in Spanish on his website
Noticias Globales
An electronic bulletin for the promotion and defense of life and family
History | Home | Books | CDs | Search | Contact Us | Donate



© 2002- Tradition in Action, Inc. All Rights Reserved