History: Personalities
William Marshal: an Emblematic Knight
The younger son of a minor nobleman who made his name in tournaments and wars, a comrade to princes and kings, a powerful landowner, and, finally, the regent of England and preserver of the Plantagenet dynasty, William Marshall was one of the greatest knights and magnates of medieval English History.
Born in 1147, the fourth son of John Marshal, a mid-rank knight from southern England, William was thrust into the political limelight from a very early age. His father John was holding Newbury Castle for Henry I's daughter Matilda against King Stephen, who, in turn, held the young boy William hostage.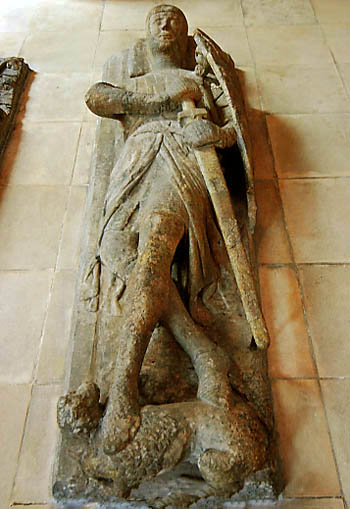 The effigy of William Marshal in Temples Church, London
When King Stephen threatened to hang William unless his father surrendered the castle, Sir John Marshal replied, "Then do so. I still have the anvils and hammers to produce even finer ones." But Stephen, moved by the boy's naïve innocence, did not carry out his threat. And so the son of John Marshal survived.
At around the age of 12, William was sent to the Continent where he entered the service of his father's cousin William of Tancarville, the Chamberlain of Normandy, where for eight years he served as a squire and trained as a knight. In 1167, he was knighted, at a time where the conflict between Henry II of England and Louis VII of France offered plenty of opportunities for him to exercise his military skills. William was quick to show his prowess as a warrior, being equally successful in tournaments and on the battlefield.
In 1170, King Henry II appointed William Marshal head of the
mesnie
(military household) of the young Prince Henry. He trained the young prince, who was five years his junior, in skill of arms, and in 1173, William Marshal knighted the young Henry, and thereby became Henry's lord in Chivalry.
We know that Marshal led young Henry and his mesnie to many victories on the tournament fields of Normandy. During the years from 1170 to 1183, William Marshal established his status as an undefeated knight in tournaments. He also cemented friendships with the powerful and influential men of his day. At the Young King's death in 1183, William was firmly established and had a following of his own, but he was still a landless knight.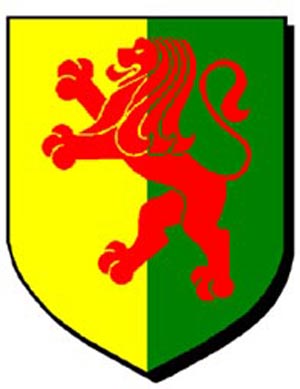 Marshal's crest - a red rampart lion on green and yellow field
On the death of the young Henry, Marshal obtained permission from Henry II to complete the vow made by the Young King before he was taken ill. Marshal spent two years in the Holy Land fighting for King Guy of Jerusalem and the Knights' Templar.
On his return in 1187, Henry II granted Marshal his first fief, Cartmel in Lancashire. With this fief Marshal became a vassal of King Henry II and swore fidelity to him as his lord and his king. Until Henry II's death in 1188, William Marshal served as his faithful knight, counselor and ambassador.
When Richard II came to the throne, he recognized Marshal as a brother and equal in Chivalry. Fulfilling the promise made by his father, Richard gave Marshal the heiress Isabel de Clare and all her many lands in marriage. With this marriage, William Marshal became "in right of his wife" one of the greatest lords and magnates in the Plantagenet Kingdom and received the title Earl of Pembroke.
William was one of the lords who opposed John's attempt to seize power from his brother while King Richard was on crusade. But once John became King in 1199, William stood loyally by him throughout his reign, one of the few barons to do so.
It is during King John's reign that the character of William Marshal is clearly revealed. When King John accused Marshal of being a traitor, he took all of Marshal's English and Welsh castles as well as Marshal's two older sons as hostages. He tried to take Marshal's lands in Leinster, and even tried to get his own household knights to challenge Marshal to trial by combat.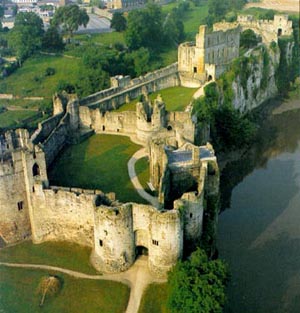 Some of Marshal's fiefs: above, Chepstow Castle in Wales; below, Pembroke Castle in England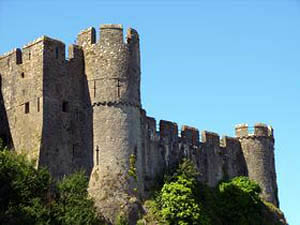 Despite all of this, William Marshal remained loyal to his feudal lord. He did not rebel when John took his castles; he gave up his two sons as hostages; he supported John against the Papal Interdict; and he supported John in the Baronial Rebellion.
Of all the bonds of feudalism, the greatest and the most important bond was the one of fidelity, of loyalty to one's lord. To break this bond and oath was treason, and this was the greatest of crimes. William Marshal was the epitome of knighthood and chivalry. He did not simply espouse it. Marshal's entire life was governed by his oaths of fidelity and by his own innate sense of honor.
If Marshal had taken his lands, castles, and knights to the side of the rebellion, King John would have lost his crown and perhaps his life. But he did not. He remained loyal to his Lord.
Back in John's favor in 1212, he was summoned to return to the English court. When John died in 1216, he appointed William Marshal regent over his son and heir, the nine-year-old Henry III. Leading the attack at age 70, Marshal defeated the French army under Philip II that had been invited in by rebel Barons to overthrow the young Plantagenet King.
On September 11, 1217, Marshal negotiated the Treaty of Lambeth that ended the war. By his wise treatment of those English Barons who had supported Philip II against King John, Marshal ensured the restoration of peace and order in England. This undefeated knight had become a great statesman in the last years of his life.
Marshal fell ill in March 1219 and, entering the Order of the Knights Templar, he made his final arrangements. He distributed his clothing between the knights of his household and the poor, confessed his sins and died.
He was buried in a Templar church, Temple Church in London, where his effigy can still be seen today. The news of his death travelled across the Channel and he was mourned by the King of France and his court as the most loyal, wise and best knight of his age.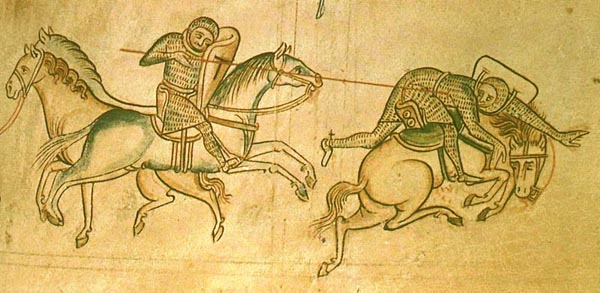 Marshal's record at tournaments was unequaled: above, he unhorses Baldwin de Guisnes
From Matthew Paris/Chronica Major

Adapted from Knight: The Warrior and World of Chivalry by Robert Jones,
NY: Metro Books, 2011, pp. 190-191
Posted July 17, 2013