Manners
Dos and Don'ts in Photos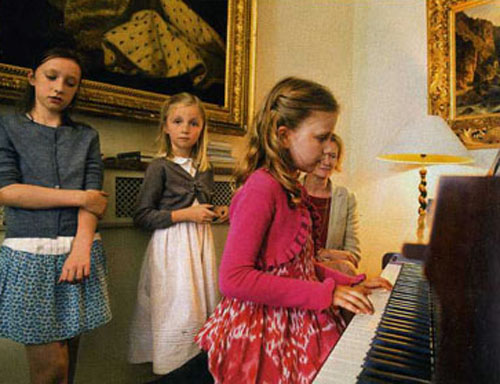 Do perform willingly when you are asked
In a salon of Ciergnon Castle in Belgium, Elisabeth, the eldest daughter of Prince Philippe and Princess Mathilde, improvises a small concert at the family celebration of the First Communion of her brother.
Children who are shy should be encouraged not to refuse to perform for the family or guests when they are asked to play a musical instrument or to sing. A child should learn to overcome his timidity in order to obey his parents and offer enjoyment to those around them. Even if a child makes mistakes, he should perform so he can learn to appear in public. This will be very useful throughout his life.
Parents should not offer the excuse that their child will not play out of humility. In most cases this timidity is not humility, but it may be even the opposite: pride that fears to make mistakes. It is more humble to accept the invitation and perform.
When the performance is over, the musician or singer should quietly accept the compliments if any. In such a case, a small curtsy on the part of the girl or a brief bow by a young man is a fitting response to applause.
Do perform willingly when you are asked, whether you are an adult or a child.
Elaine M. Jordan
Posted February 20, 2013