Environment
Again! Massive Fudging on
Global-Warming Temps
An independent data analyst Steven Goddard, whose work has been published by
Principia Scientific,
where scientists deliberate and debate, throwing out predetermined political results in favor of the truth in the data,
says
the global warming activists are at it again.
They're manipulating the data. In this case, lowering the historical temperatures for years prior to 2000. Which makes the temperatures after that look like they've risen. Which makes it look like global warming.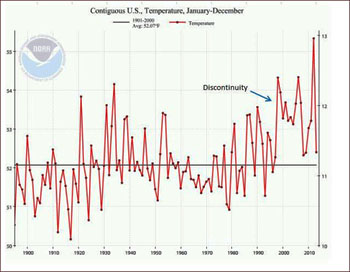 Even though temperatures plummeted in 1999-2000, they did not in the US graph
"A newly uncovered and monumental calculating error in official U.S. government climate data s
hows beyond doubt
that climate scientists unjustifiably added a whopping one degree of phantom warming to the official 'raw' temperature record," the report says.
It comes from the discovery by independent data analyst Steven Goddard, who did a study of the official U.S. temperature records used by NASA, the National Oceanographic and Atmospheric Administration and others.
He found that for the records, when global temperatures plummeted in 1999, on the official U.S. chart, they didn't.
Essentially, he said, the charge was revised downward by one degree for readings before 2000. But they "left post-2000 temperatures more or less intact."
"Does this evidence prove an intentional fraud? Goddard certainly thinks it possible," the science site analysis explains. "One way or the other, only a full examination of all the files will show that. … The ramifications are that hundreds of billions of tax dollars have been misallocated to 'solve' a non-problem, all due to willful malfeasance and/or incompetence in data handling."
The analysis continued, "Just last month (November 2013), John Beale, the senior EPA policy adviser, was convicted and jailed for defrauding taxpayers out of $1 million in salaries and expenses. Does a culture of corruption extend through departments associated with climate policy?"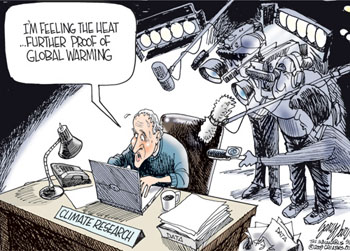 Climategate, manipulated figures - credibility is waning for global "scientists" predicting global warming
At the CATO Institute,
a separate report
on 2013 temperatures noted, "Please be advised that this history has been repeatedly 'revised' to either make temperatures colder in the earlier years or warmer at the end. Not one 'adjustment' has the opposite effect, a clear contravention of logic and probability."
Columnist Vox Day
wrote
at
Absolute Rights
that it's just another "smoking gun in the fraud-filled field of 'climate science.'"
"What Goddard has uncovered is that the U.S. temperature records are being massaged and manipulated by the National Oceanic and Atmospheric Administration in much the same way that the Bureau of Labor Statistics manipulates the unemployment rate," he writes.
"For example, despite the fact that more Americans are out of work than ever before, the BLS has managed to reduce the unemployment rate to 6.7% by simply excluding millions of Americans from the labor force. So, even though the employment-population ratio has fallen from 64.7% to 58.6%, implying 18.9 million more Americans out of work in a country of 310 million people, the official unemployment rate is down from its 2009 highs," he said.
"In the same way, NOAA has magically transformed a 90-year cooling tend into a 40-year warming trend by reversing the polarity of its V2 temperature adjustment. … In other words, NOAA artificially lowered temperatures from before the year 2000 by one degree, thereby making all post-2000 temperatures look that much hotter and producing the fictitious 'warming trend' that no one who ever goes outside has been able to detect," he said.
Goddard's findings, he wrote, included that "discontinuity" at 1998, because even though temperatures plummeted in 1999-2000, "they didn't in the U.S. graph."
He said, "NOAA made a big deal about 2012 blowing away all temperature records, but the temperature they reported is the result of a huge error. This affects all NOAA and NASA U.S. temperature graphs …"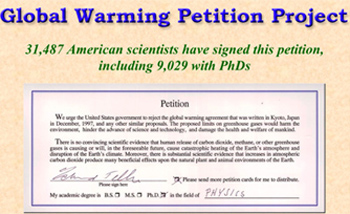 The Global Warming Petition, signed by 31,487 American scientists, is ignored by the media
He has
assembled an animation
that takes the U.S. Daily Temperature, U.S. Monthly Temperature and several adjusted versions of the nation's temperatures to turn a clear cooling trend into a warming trend.
"Bottom line is that the … U.S. temperature record is completely broken, and meaningless. Adjustments that used to go flat after 1990, now go up exponentially. Adjustments which are documented as positive, are implemented as negative," he found.
CATO's separate report said, "All can agree that the temperatures in 2013 further extended the 'pause' in the global surface temperature record – which now stands at some 17 years. A lot of people are at work trying to explain what's behind the 'pause,' but no matter the cause, the longer that it continues, the further from reality climate model projections become."
Also weighing in was well-known scientist Art Robinson, who spearheaded
The Petition Project
, which to date has gathered the signatures of 31,487 scientists who agree that there is "no convincing scientific evidence that human release of carbon dioxide, methane or other greenhouse gases is causing or will, in the foreseeable future, cause catastrophic heating of the Earth's atmosphere and disruption of the Earth's climate."
"This kind of shenanigan has been going on for decades," he told WND. He said in the past often the lie has been revealed by other scientific tests. For example, the temperature leaves a certain oxygen content level in the skeletons of small animals that end up in the ocean sediment. Those measurements, he said, are a proxy record and reveal that temperatures have not been rising like various graphs and models suggest.
WND reported
only weeks ago
that Sen. Jim Inhofe, R-Okla., author of
The Greatest Hoax: How the Global Warming Conspiracy Threatens Your Future
, says not only has he seen through the "hoax," but so have his fellow lawmakers.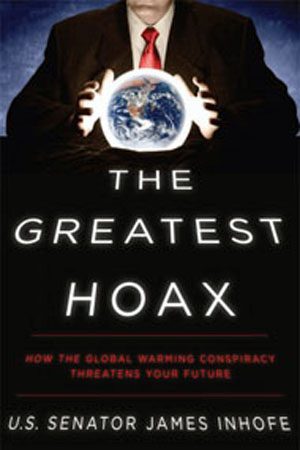 Numbers manipulation has been going on for a long time, Inhofe proves here
In that recent interview with Aaron Klein of "Aaron Klein Investigative Radio" on New York City's WABC Radio, the host asked Inhofe – in light of Al Gore and other global warming alarmists' failed predictions – how progressives continue to "get away" with pushing their "green schemes" in the name of climate change.
"They don't get away with it in the eyes of the American people," Inhofe answered. "I find fewer and fewer members of the United States Senate that are sympathetic to this whole cause."
"Those who have read my book,
The Greatest Hoax
, know that this goes way back a long period of time, started by the United Nations," Inhofe continued. "When they first started talking about the Kyoto Treaty [President Bill] Clinton and Gore, they were all excited about it, and they never submitted it for ratification because they didn't have the votes. But anyway, that's when the whole global warming thing started, and frankly, Aaron, I thought there might be something to it – until we found out the cost it would be to the United States of America of $300-$400 billion a year.
"Then we pursued some of these fine scientists who said that the U.N. had rigged the science; then of course in '09 when ClimateGate came, people realized the United Nations committee, the IPCC, had rigged the science on this thing," Inhofe said. "Now they're trying to say this cold thing we're going through now is just a bump in the climate. That isn't true at all. It is a hoax."
This article by Bob Unruh was first published on
World News Daily WND on December 18, 2013

Posted February 21, 2014