Ambiences and Tendencies
France's New 'First Mistress'
When Nicolas Sarkozy was voted out as President of France in May 2012 after one term, I could not help but be relieved that France was rid of the ambitious and scandalous "First Lady" Carla Bruni-Sarkozy. The pair are both supposedly Catholic, but their private lives could not be more scandalous.
As
an article on this site
reports, Sarkozy was divorced twice before he allegedly 'remarried' Carla Bruni out of the Church. As for France's "First Lady," Carla Bruni, she was a fashion model famous for two main things: posing nude for magazines and collecting lovers. Some of the most famous among that large group include Mick Jagger, Eric Clapton, Donald Trump and Kevin Costner. While living with another, Jean-Paul Enthoven, she had a parallel affair with his son and had a child by him.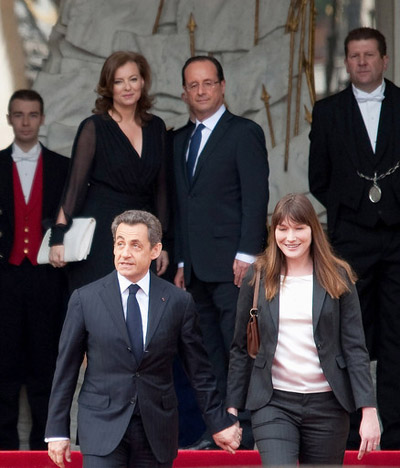 Hollande and his mistress Valerie Trierweiler above, seeing out Sarkozy and the scandalous Carla Bruni, below
Did she ever manifest repentance? There is no record of it. To the contrary, she openly declares she is "bored by monogamy." And while living as "first lady" with Nicholas Sarkozy, she enjoyed having her old lovers visit and spend vacation days with her and Nicholas…
Sarkozy, let us not forget, was head of the conservative center-right party, the UMP, where morality should be stronger. It is worthwhile noting that during the entire term of Nicholas Sarkozy, the Catholic French Prelates failed to preach against his illicit marriage and the scandalous behavior of Carla Bruni.
And how did once Catholic France accept this First Lady?
Point de Vue
magazine reported that a recent poll found that 70% of the people think Carla Bruni played her role well and was a good representative of their country (
Point de Vue
, Oct 10-16, 2012). Most of the younger crowd approved her because they considered her
chic
and
jolie
(pretty).
From bad to worse
So did anything improve with the recent election of the Socialist François Hollande? I'm afraid not.
Because Hollande believes marriage is a "too bourgeois institution," he spent 30 years living with Ségolène Royal, the mother of his four sons. He left her in 2005 to start a new relationship with Valérie Trierweiler, a French journalist who was on her second marriage, which produced three children. Only in 2010 did their relationship become public after Valérie's second divorce was finalized. Therefore, Hollande became President of France in 2012 with Valérie, his mistress, at his side during almost all the public ceremonies.
So, for the first time in the history of the French Republic, the "First Lady" is a live-in 'partner.' There is not even a pretense of marriage. Although Carla Bruni-Sarkozy has counseled Trierweiller to marry the President so she "can be more popular with the people," Hollande and Trierweiler apparently are not listening. There is no longer the need to be hypocritical seems to be their reasoning, since morals no longer matter to the French electorate… She is brazenly titled "first mistress" or "first girlfriend" by the press.
In the same
Point de Vue
poll taken in September 2012, 73% of the French who were polled said they thought it was acceptable for Trierweiler not to be married. She is considered
trés elegante
[very elegant] and very intelligent. Florence Willaert, editor-at-large at the French
Grazia
, describes France's new first mistress as "a lot easier to identify with. She embodies the same [socialist] message as her husband: a new proximity to the people." The couple intends to live in their apartment in a Parisian neighborhood, not the Elysée Palace – another 'too bourgeois' institution...
What an example for the French people, especially the youth: A liberated First Lady who is unabashedly a concubine. What a sad example of the state of deterioration of the First Daughter of the Church.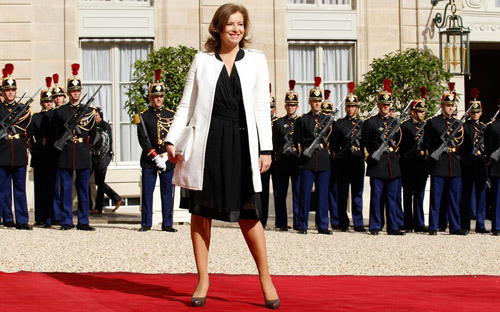 Hollande's concubine Trierweiler at the Elisee for the swearing-in ceremony


Posted November 30, 2012