Collection on Vatican II
Landmark Counter-Revolutionary Publication
Below is the transcript of the introduction given by Mr. Patrick Odou on the January 22
nd
2017, at the Grand Ball Room of the Summit House in Fullerton, California. The event was organized to celebrate the publication of the entire collection
Eli, Eli, Lamma Sabacthani.
Welcome, ladies and gentlemen! Thank you so much for coming. My name is Patrick Odou and I have the great honor and privilege of introducing our two speakers for this afternoon. But before I do that, I want to make a couple of points about how we got here today.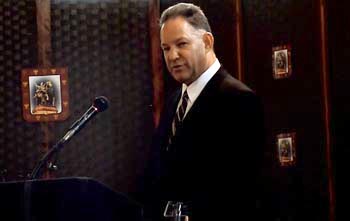 Mr. Patrick Odou
When the final book was coming out – the final book of the 11 volume Collection – it was suggested by Dr. Marian Horvat that we should do something to celebrate this event. I thought it was a good idea, and I tried to corroborate her suggestion.
Atila showed himself to be a little reluctant about the idea. So I started presenting my ideas saying; "Well, God and His Catholic Church always marks great events in history and in our lives with ceremonies, with plaques, with signs. For instance, the Church marks every great event in our lives, such as our birth with Baptism, death with the Last Rites. God gave a sign of the rainbow in the time of Noah. Europe and the world are full of plaques marking where a great battle took place, or a saint gave glory to God."
As I was saying this, I looked over at Atila and I could see a little smile on the corner of his mouth, and he said, "Well, maybe we should just make a plaque."
(laughter)
. Needless to say we disagreed with him, and here we are today.
There is another point I would like to make concerning this launching – well this really isn't a launching because the book came off the press about two months ago – this is a celebration of the publication of 11 volumes, an 11 volume collection against the Second Vatican Council.
(applause)
.
And each volume averages over 300 pages. As is said on these panels over here, it was a work 34 years in the making. And there were a lot of hardships, twists and turns in the meantime. This is a celebration of 11 volumes. This is something very rare! It is certainly unheard of in the Traditionalist Movement. But from the larger picture of the Counter Revolution, I believe this to be one of the most important works for the Cause of Our Lady.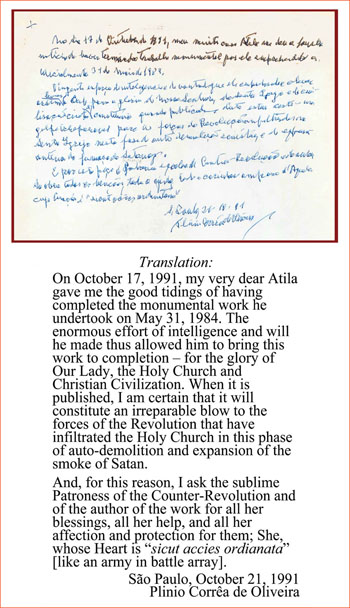 And finally, I would like to read something that is on the second panel that is called
"Landmark II."
I am going to read Prof. Plinio's own words regarding this Collection when it was finished. It was October of 1991 of 1984 that he wrote the final Term, the closing, when Atila said he was done.
It says, these are the words of Dr. Plinio, "When it is published, I am certain that it will constitute and irreparable blow to the forces of the Revolution that have infiltrated the Holy Church in this phase of auto-demolition and expansion of the smoke of Satan."
So, let us all pray to Our Lady that this Collection play a decisive role in the destruction of the enemies of the Church as Professor Plinio Corrêea de Oliveira expected when he wrote this final term, this closing. He wrote it in 1991. That is all that I have to say.
Now, I am about to introduce the first speaker. I believe he needs no introduction, and looking around the room I'm sure you all know him. It is Father Paul Stretenovic. When I first met him he said that he had already heard of Atila Guimarães. He said he was listening to a cassette in his car about Revolution and Counter-Revolution. He can tell you this story better than I can. At the end of it he said, "I can do that!" So, Atila already was known by Fr. Sretenovic back then.
So, without further ado, ladies and gentlemen, it is an pleasure to introduce this honored priest of Our Lady Help of Christians Chapel in Garden Grove. He says the Traditional Latin Mass. It is with great pleasure that I introduce to you Fr. Paul Sretenovic.
(applause)
Fr. Paul Sretenovic gives his talk, followed by the speech of Mr. Atila Sinke Guimarães. In closing, Patrick Odou resumes his position at the podium and says the following w
ords:
This concludes our speeches for this afternoon. Thank you so much for coming.
Just a reminder, the entire collection,
Eli, Eli, Lamma Sabacthani
, is on sale today for half price for this event. Over here at the tables you can buy the entire 11-volume collection for
today only
at half price. For $110 dollars, normally if you bought each one individually it would be $220. Please enjoy the hors-d'oeuvres. We have the hall for another hour until 5 o'clock. Thank you for coming.
[
TIA Note: After the event the entire Collection can be purchased on our bookstore page at a 25% discount for $165.
]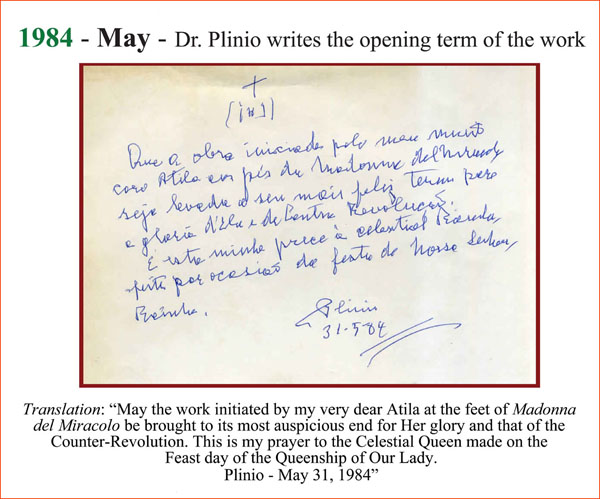 Posted February 24, 2017
| | | |
| --- | --- | --- |
| Volume I | Volume II | Volume III |
| Volume IV | Volume V | Volume VI |
| Volume VII | Volume VIII | Volume IX |
| Volume X | Volume XI | Special Edition |