Progressivism in the Church
Church Revolution in Pictures

Photo of the Week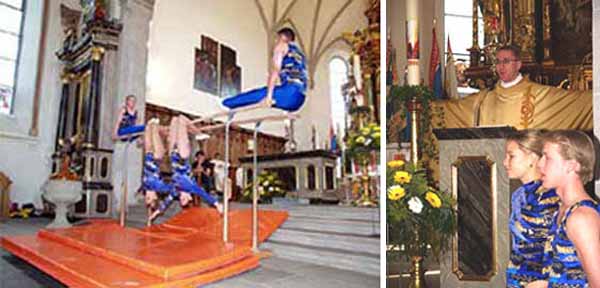 An Acrobatics Mass in Switzerland
On May 2, 2004, at a Catholic parish in Menzingen, Switzerland, the pastor invited a gymnastics team to perform during Mass. In fact, they stood next to the altar as the Mass was said, above right. Then, the priest went to his side chair while the four athletes - two women and two men - showed their acrobatic abilities in front of the altar, left.

Besides the inappropriateness of such an exhibit in a sacred place, it is not pointless to stress that the two young women in their tight acrobatics costumes exposed their legs.

You are seeing consequences of Vatican II...
Posted June 13, 2010

Related Topics of Interest

John Paul II Watches Acrobat Performers

Benedict Receives Circus Performers at the Vatican

JPII Sabotages the Seriousness of the Papacy

Pope Wojtyla Blesses Break-dancers at the Vatican

Obscene Performance for the Polish Bishops

Balloon Rock Mass in Vienna

Disco Mass in Eisensdat

A Circus Mass in Monaco

Frenetic Holy Week in Chile

The Rock Priest
Pictures | Home | Books | CDs | Search | Contact Us | Donate



©2002-2013 Tradition in Action, Inc. All Rights Reserved