Progressivism in the Church
Church Revolution in Pictures

Photo of the Week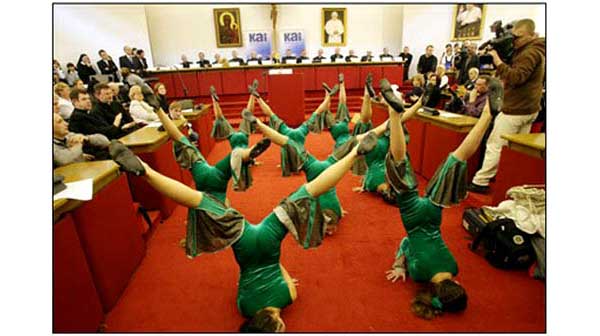 Kreuz.net
Obscene performance for the Polish Bishops
On November 21, 2007 during a ceremony at the headquarters of the Polish Conference of Bishops, a group of young women perform obscene steps of a show, under the picture of Our Lady of Czestochowa.

The meeting was held to award the title of The Pastor of the Year to Fr. Jan Dziasek of the Parish of Queen St. Hedwig in Krakow. The event was spounsored by both the Bishops Conference and the Catholic Information Agency - KAI (Katolicka Agencja Informacyjna). This is the fourth year of the contest that chooses which priest is more in tune with "the signs of the times in a changing religious reality in Poland."

Enjoying the show were many Bishops seated at the table of honor, as one sees in the photo.
Posted December 9, 2007

Related Topics of Interest

Young Women in Leotards Dance for JPII

Sensual Dancing for JPII at the Olympic Stadium, Rome

New Devotees of Benedict Tattoo Slogans on Their Lower Backs

JPII Greets Majorettes in Mini-skirts

The Cathedral of Joliet's Acolytes

Archbishop Levada with Altar Girls

JPII Gives Communion to a Bare-breasted Woman

A Semi-naked Woman Brings the Gifts for the JPII's Mass

Canonization of Wojtyla, the Moral-Free Pope
Pictures | Home | Books | CDs | Search | Contact Us | Donate



©2002-2014 Tradition in Action, Inc. All Rights Reserved