Progressivism in the Church
Church Revolution in Pictures

Photo of the Week
Jesus Christ presented as an extra-terrestrial
The French Diocese of Belfort Montbeliard is offering Catholics a Way of the Cross in which Our Lord Jesus Christ is presented as an Extra-Terrestrial.

Above is the 8th Station: Jesus consoles the daughters of Israel;
Below, the 12th Station: Jesus dies on the Cross.

The well-known movie ET has parts in which the extra-terrestrial personage is presented as a kind of Antichrist who dies to "redeem" human kind and then resurrects. Wrapped in a white mantle with its heart "burning with love," it opens the closed way to "heaven," etc. This parody was commonly interpreted as an attempt of the anti-Catholic heads of Hollywood to attack the Catholic Faith and promote its opposite.

Now, the artist endorsed by the Belfort Diocese presents Our Lord as an ET. Under the pretext of updating the image of Jesus Chirst, she goes along with those occult anti-Catholic forces.

What is this Diocese really promoting, Christ or the Antichrist?

See all the stations of the Cross by Grazyna Tarkowska here.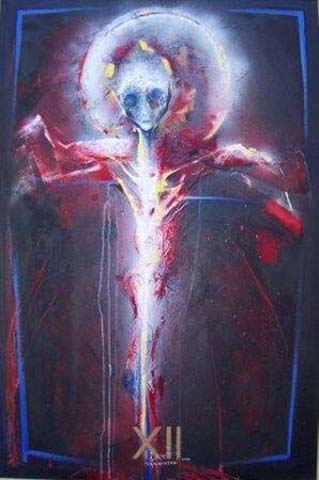 Diocese of Belfort Montbeliard
Posted August 12, 2007

Related Topics of Interest

Elias and the Fight against the Antichrist

St. Eliseus and the Last Battles of History

The Beasts of Satan and the Roman Curia

Subtle Invasion of Satanism

Supernatural in Modern Society

Satanism on the Rise

Nothing New in the New Age

Black Clothing in Fashion

An Occult Christ in The Messenger

The Matrix Series and the Antichrist
Pictures | Home | Books | CDs | Search | Contact Us | Donate



©2002-2014 Tradition in Action, Inc. All Rights Reserved