Ambiences and Tendencies
Satanism on the Rise

A.S. Guimarăes - June 16, 2004
Last week the Italian magazine L'Espresso published a report on the growth of Satanism in Italy and worldwide. The topic was suggested by a recent ritual murdering in northern Italy. Sandro Magister, who signs the article, distinguishes between two kinds of Satanism: the "high" and the "low." The former is organized and approved by the authorities. Its rights safeguarded by law, it holds meetings, publishes magazines, and hosts websites. This brand of Satanism was founded by Anton Szandor LaVey and inspired by Aleister Crowley. The journalist included Charles Manson, the known Californian Satanist behind the ritual murdering of actress Sharon Tate, as part of the "high" Satanism.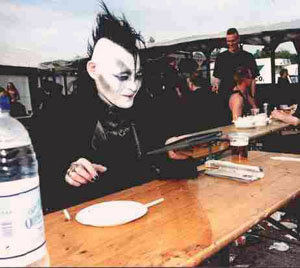 A "gothic" punk sits as a common citizen at a fast food place. However, he implicitly spreads Satanism




The latter, the "low" Satanism, is spontaneous and unorganized, without books or bylaws. It is practiced by many criminal gangs, drug addicts, rock bands, homosexuals, pedophiles, sadomasochists, and others.

The article warns especially against the so-called "dark wave" or "gothic wave" born in England and United States in the 1970s led by Alice Cooper and the rock band Black Sabbath. They created a "subculture dripping with blood, death, and macabre acts," accuses Magister. According to the article, "low" Satanism is on the rise and out of control (ACI Digital, June 11, 2004).

Since the Revolution imagines it is drawing near its end – the destruction of the Catholic Church and Christendom – it is not surprising that the chief of the Revolution, Satan, thinks that the time has come for him to be publicly worshiped. He is not counting, however, on a sudden flip of the coin and the final victory of Our Lady that we know will happen, as she promised it at Fatima.
Ambiences | Cultural | Home | Books | Tapes | Search | Contact Us



©2002-2013 Tradition in Action, Inc. All Rights Reserved