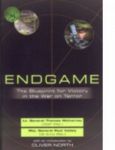 In January 2000, Lieutenant General Thomas McInerney, USAF (Ret.), established his own consulting firm, GRTT (Government Reform Through Technology). Working with high-tech companies who do business with federal, state, city and local governments, GRRT helps them introduce advanced technology into the public sector.
From March 1996, to December 1999, he was Chief Executive Officer and President of Business Executives for National Security (BENS), a national, nonpartisan organization of business and professional leaders, with headquarters in Washington, DC. BENS works to engage the business community in securing Americaís future with a more efficient defense establishment. In February 2000, General McInerney received a Laurel from Aviation Week and Space Technology magazine for his efforts on behalf of military reform as President of BENS. He has also made numerous appearances on National Television discussing Defense Reform and during global military crises such as Kosovo, EP 3 incident in China and now the War on Terrorism where he is the senior Fox News Military Analysts.
Prior to joining BENS, General McInerney was Vice President of Command and Control for Loral Defense Systems-Eagan. He joined Loral (then Unisys Electronic Systems Division) in 1994 following 35 years as a pilot, commander, and Joint Force Commander in the United States Air Force.
General McInerney retired from military service as Assistant Vice Chief of Staff of the Air Force and as Director of the Defense Performance Review (DPR), reporting to the Secretary of Defense. In that capacity, he led the Pentagon's "reinventing government" effort, visiting more than 100 leading-edge commercial companies to assimilate their ideas about business re-engineering. The DPR was part of Vice President Gore's National Performance Review on Reinventing Government, which focused on making the government perform better at less cost -- a fundamental BENS objective.
After his commissioning as a second lieutenant in 1959, and completion of pilot training in 1960, General McInerney served in numerous key Air Force assignments and had extensive military command and overseas experience. A command pilot with more than 4,500 flying hours, he completed four tours of duty in Vietnam, flight reconnaissance missions during the Cuban missile crisis and air escort missions in the Berlin Corridor.
General McInerney earned a bachelor of science degree from the US Military Academy in 1959 and a masterís degree in international relations from George Washington University in 1972. He completed Armed Forces Staff College in 1970 and the National War College in 1973.
General McInerney is a member of the Board of Directors of Alloy Surfaces Company, Kilgore Flares Co, Nortel Government Solutions Inc. Pan American International Academy (Flight Simulators), Agusta Westland NA, and Crescent Partnerships.