Books Reviews
Re-Establishing Authority in the Home

Fr. Paul Sretenovic
Book-review on Courtesy Calls Again, by Judith Fife Mead & Marian Therese Horvat,
(Los Angeles: Tradition in Action, 2009), 152 pp.
In the Third Secret, as revealed by Cardinal Ciappi, Our Lady of Fatima stated that the Great Apostasy would begin at the top. While this most likely refers to the changed orientation being given by Popes, Cardinals, and Bishops over the last 50 years or so, I believe that it has another application in a certain abdication of authority taking place on a much smaller - yet all-important scale - of the home. In fact, one of the most troubling phenomena that I have noticed as a priest is what has often been called a "crisis in authority." Simply put, men and women have either lost the ability or the will to govern, especially with regard to married life and the rearing of children.

I have found that the problem is not one dimensional. It can come as the result of simple ignorance, whereby certain principles and customs are unknown to individuals because they never learned them or saw them in practice. It can also come from weakness or laziness, where a person with a good foundation fails to put what he knows into practice for any number of reasons, not the least of which is the wrong belief that to be too unbending in the realm of principles will do more harm than good.

A large part of the problem stems from the failure on the part of men and women to govern themselves, to practice the discipline that the good customs of Christian Civilization always demanded. Such failure undercuts their moral authority and, therefore, undermines their ability to command obedience from anyone, even children. This oftentimes leads to the sad situation of the "child-centered home." What is worse, this failure in self-governance has made people more susceptible to the lies that "the modern world" continues to bombard society with daily.

The book Courtesy Calls Again offers hope that this multi-level crisis can be reversed. In it, authors Dr. Marian Therese Horvat and Mrs. Judith Fife Mead tackle these very issues with a concision and wisdom that can strengthen the enlightened but irresolute, as well as give a rudimentary foundation to those souls who have been more thoroughly imbued with the principles of the Revolution. In the book, the authors unmask some of the most insidious and popular "myths" of modern man in his, or her, relationships with others. This, as well as a number of helpful "dos" and "don'ts" throughout the book will assist the reader - most especially the more uneducated - in the basic tenets of courtesy.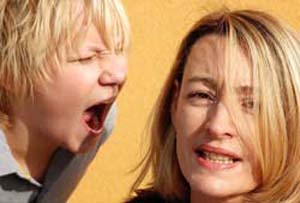 Children screaming at parents - a crisis of authority in today's family

In addition to this, the authors tackle head-on the temptation to abdicate authority in the home because of fear of losing credibility in the eyes of the children. Their book shows how this actually is the opposite of what happens, and couples examples with practical suggestions on how to "win back" one's moral authority in the course of everyday life. It provides valuable support for those who already have a good idea about what the proper state of affairs should be in the home, but either lack the support of a spouse, or simply believe that this "ideal" is no longer achievable for most people.

A portion of the book is also dedicated to "table etiquette," proper arrangement of the dinner table and table conversation and manners. While some might think this may seem out of place for a work on courtesy, it becomes clear upon reading the book that the dinner table - and all of the topics that come up at the main meals of the day – are of the utmost importance to developing and preserving the Catholic spirit.

As one reads on page 117, "To achieve this admirable aim (of consistency in thought, word, and action based upon the Catholic spirit - tending to perfection and excellence in everything), courtesy must be learned and practiced regularly at home. One of the most important places to do so is at the table, where the family gathers for meals."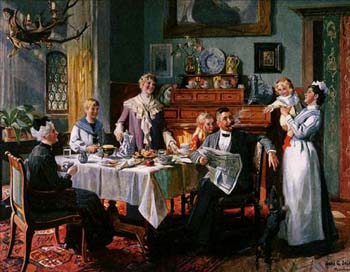 The table - a veritable school of culture and enjoyment in our Catholic past

Today, taking daily meals together as a family has in many cases become an informal affair or is considered altogether unnecessary. Viewed correctly, this time together at the table is in itself a school where good morals and proper hierarchy are established. It also can be the source of a wealth of information when accompanied by good conversation in an adult-centered atmosphere. One can, therefore reasonably conclude that just as the Holy Sacrifice of the Mass is the center and origin of the spiritual life, so the family meal is the center of - and if not the origin, certainly the prerequisite for - a healthy, well-balanced and virtuous family life.

The conclusion of this relatively short, yet highly informative book ends with a question, "Courteous, or barbarian?" The authors point out: "In the final analysis, there are two pathways: one that follows the way of courtesy, distinction, and morality, and the other that leads to barbarianism, vulgarity, and immorality. The call to courtesy comes at a crucial moment in history, when vulgarity and immorality seem to be conquering every ambience and environment" (p. 151).

As the popular Catholic apologist and author from the middle of the 20th century, Frank Shead, demonstrates in one of his most famous books, Theology and Sanity, the question of holiness is one of sanity. Shead concludes that if one cannot think correctly, one cannot act correctly, in which case, holiness, which has its foundation in Truth - not feelings - is impossible. One who thinks correctly may never become a saint, but one cannot become a saint without thinking and acting correctly.

I believe that Dr. Horvat and Mrs. Mead, with this work, have offered a means to help countless souls to begin to think and act correctly. It comes at an opportune time, for without this, courtesy cannot but lose to barbarianism.

We know, however, from Our Lady of Fatima that "in the end, Her Immaculate Heart will triumph." With this source of absolute confidence in the Blessed Mother's promise, one cannot but be convinced that this little work will make a deep and lasting impression on souls. I believe that it is one of the tools Our Lady will use to crush the head of the ancient serpent under her heel.



Posted March 3, 2010




For more on Courtesy Calls Again, click here

Related Works of Interest
Book Reviews | Home | Books | CDs | Search | Contact Us | Donate



2002-2010 Tradition in Action, Inc. All Rights Reserved