Book reviews
The Red Queen – A Feminist & Fallacious View of Lady Margaret Beaufort

Marian T. Horvat, Ph.D.
Book review of The Red Queen
by Philippa Gregory, NY: Simon & Schuster, 2010, 429 pp.
A regular reader of our website recently suggested I read The Red Queen by Phillipa Gregory, part of a trilogy of "historical fiction" on leading ladies in the English War of the Roses (1455-1485). It was a dynastic war for the throne of England fought between two rival branches of the Plantagenet House: the Houses of Lancaster and York, whose heraldic symbols were a "red" and a "white" rose respectively.

The Red Queen is Lady Margaret Beaufort, the pious heiress of the Lancaster House and mother of the future Henry VII. Our reader thought I would find the story enjoyable, a good representation of a very volatile and complex period.

Historical fiction can be instructive and enjoyable. I would highly recommend, for example, any of the historical novels by Louis de Wohl, such as The Last Crusader about Don Juan of Austria. Certainly, imagination was used to bulk up the characters, but the author was faithful to the facts and general thinking of the times.

Philippa Gregory's work, however, typify a modern breed of "historical fiction." That is to say, she reconstructs History to fit her point of view, which is decidedly feminist. Clearly she does not like the devout Lady Margaret Beaufort, and so she depicts her as a bitter, scheming and pharisaical woman who pretends to follow the "will of God" – so long as it corresponds to her own.

To substantiate her view, Gregory does not hesitate to change or distort historical facts. If you criticize the maneuver, she simply responds, "It is a novel. I have never said it was history."

The damage is done, however, and often permanently. Etched on the mind of the naïve reader of this "historical novel" is a false picture of Lady Margaret Beaufort and erroneous notions about the late medieval times in which she lived.

The real Lady Margaret

Until now, History had been kind to Lady Margaret Beaufort, a descendant of Edward III through John of Gaunt. Her first short-lived marriage at age 13 was to Edmund Tudor, Earl of Richmond, who died in the civil war one year later. His posthumous son was the future Henry VII. Her two other marriages were arranged to further the Lancaster interests and, ultimately, her son's ascension to the throne after his victory at Bosworth in 1485.

In collaboration with the dowager Queen Elizabeth Woodville, Lady Margaret arranged a marriage between her son Henry and Elizabeth's daughter, Elizabeth of York, thereby uniting the families and ending the War of the Roses.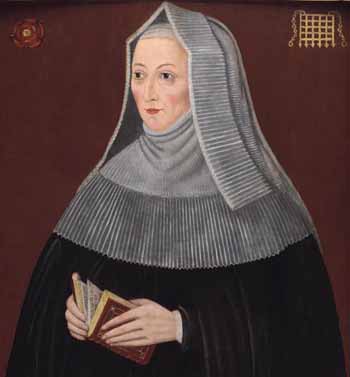 Lady Margaret Beaufort, dressed in simple widow's weeds

Reputable historians affirm Lady Margaret skillfully, carefully and intelligently maneuvered her way in the treacherous court setting of the times. No serious historian has raised doubts about her deep piety. The Catholic Encyclopedia even honors her with an entry, describing her as a "model of piety and devotion" and "singularly high example" of a Catholic Queen.

When Henry VII died in 1509, he designated his mother chief executor of his will; later she was declared regent of her grandson, the future Henry VIII. Such was the confidence of the King and the Court in the prudence and discernment of Lady Margaret.

Lady Margaret recited the Divine Office daily in her chapel, joined by many of the ladies of her court who followed her good example. With her husband's permission, she took a vow of chastity in 1499 in the presence of the Bishop of London. In 1502 St. John Fisher became her confessor and strongly praised her noble character, virtues and good works. Included in those works are the founding of Christ's College and St. John's College at Cambridge.

At her funeral, St. John Fisher preached, "All England has cause to mourn her death. The poor lost bounteous alms; the universities, a generous patron; the virtuous and devout, a loving sister, the priests and religious, a powerful defender."

A feminist red Queen

Disregarding the good judgment of History, Philippa Gregory delivered a different verdict on the character of Margaret Beaufort. Along the way she invented facts to sustain her opinion.

From the novel's opening, Gregory pretends to go into the mind of Margaret, attributing to her a feminist spirit in revolt against authority. She is presented as revolted against her mother, who denies her affection and only considers her a piece on the political chessboard to produce a male heir for the Lancaster line. She is pictured as resentful because as a girl she was denied a Latin tutor. She fumes because her lot is to be strategically "wedded and bedded" and she has no "choice". In short, she revolts against the place of women in the home and society. It is also insinuated that her real revolt is against God and the order he placed in the universe.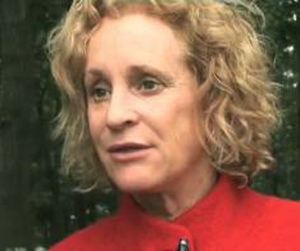 Twice divorced Gregory instills Lady Margaret with her own feminist inclinations

She wants to be great, "chosen by God" like Joan of Arc and, and so she immerses herself in devotions and prayer. But her piety is pretense; she uses the will of God as a way to affirm her own will in all matters.

First, this depiction of the spirit of the times is all wrong. Gregory is imbuing the 14th century Queen with 20th century feminism. The woman's revolution, however, did not exist in that time. Margaret's seething anger at being a woman and denied a "career" and "choice" are simply ludicrous, invented by Gregory, who cannot imagine women could willingly submit to the authority of their parents, husbands and God.

Gregory imposes her own modern sentiments on her personage, presenting Margaret as a "victim" of a supposed chauvinism of the time. The author thus pretends that we can pity Margaret and "understand" her hypocrisy and self-righteousness, even if we do not like her.

Gregory also does not understand the Catholic spirit of the age. Crippled as she is by her materialism and feminism, she can only see Religion as a crutch or tool, a means to reach an end. Margaret's prayers, in her view, had to be self-serving, self-absorbed, and nothing but the product of her own "selfish ambition." Gregory is incapable of entertaining the notion of a genuinely pious Lady Margaret, a daughter of a devout mother, a contemplative spirit who truly desired to love God and follow His will.

Erroneous facts

Second, historic facts are wrong. Historians relate Margaret was brought up by her mother with the greatest care and devotion. Further, she was well educated, which is confirmed by the fact that later in life she translated devotional works from Latin to English.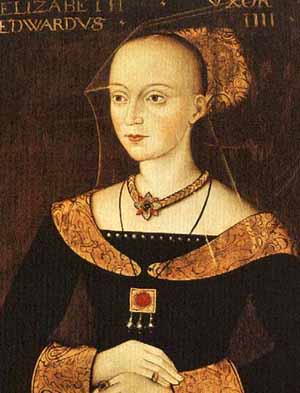 Gregory repaints Elizabeth Woodville, reputed to practice withcraft, in a favorable light

Gregory cannot imagine Lady Margaret without an illegitimate secret love, and so she invents one between Margaret and her husband's brother Jasper. Here, also, the author presents Lady Margaret as a victim of her cold ambitions, for the two determine to sacrifice their love for the sake of Henry's future. This is pure fiction.

Taking more literary liberties, Gregory sets up the dowager Queen Elizabeth Woodville and Lady Margaret as bitter adversaries, both juggling to place their sons on the throne. But the author clearly favors the ravishing Elizabeth – a commoner who conquered King Edward purportedly by witchcraft. It is the passionately Catholic Lady Margaret who is eaten up by jealousy.

Raging against her rival, Margaret calls Elizabeth's pride, vanity and ambition "sinful," while her own desires are "godly" and "righteous." This is a sample of the anti-Catholic bias you will find throughout this novel.

The author also invents a bitter relationship between Lady Margaret and her daughter-in-law Elizabeth of York, who Gregory pretends was reluctantly received into Margaret's household for a brief period. In reality, from the historical evidence that has survived, more than cordial relations existed between these two women. Elizabeth appeared to have cherished the greatest esteem for her mother-in-law, and following her example, was active in pious works and generosity toward her subjects.

A shocking accusation

The most shocking accusation of Gregory is her pretension that Lady Margaret masterminded the murders of the two sons of Edward IV and Elizabeth Woodville.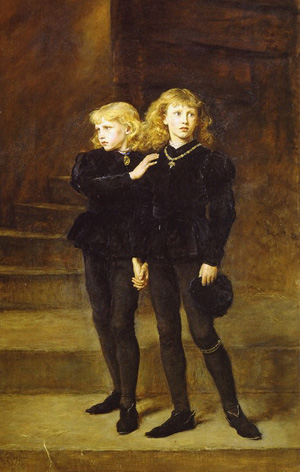 The two Princes in the Tower of London

The two Princes were taken for safekeeping in the Tower of London by their uncle Richard, Duke of Gloucester, after the death of Edward IV. The two Princes consequently "disappeared" and Richard was crowned as King Richard III of England. Their fate remains a mystery, although historians agree that they were probably murdered in the Tower.

If the boys were indeed murdered, there are several major suspects for the crime. Chief on the list is Richard III. Lady Margaret Beaufort, however, has never even been under suspicion for the crime. Nonetheless, the author asserts that Lady Margaret masterminded their murder, and then washed her hands clean of their blood by claiming it was the "will of God."

I fear the naïve reader may believe this biased fiction, as in her novel Gregory invented letters (that never existed) from Margaret's third husband, Lord Stanley, to his wife affirming her part in the murders.

Should Catholics read The Red Queen by Philippa Gregory? I would not advise it. If they do, they should be aware that the author inverts and invents facts to please her fancy and replaces the pious Lady Margaret Beaufort with a false and feminist criminal.



Posted September 21, 2012

Related Topics of Interest

The Memoirs of Baroness Elizabeth von Guttenberg

Women in the Middle Ages

False Statements about Life in the Middle Ages

History for Dummies - The Tudors

The Death of St. John Fisher His Education and Virtue

Refinement and Sanctity

The Stand of St. Thomas More

Trianon: A Novel of Royal France

Related Works of Interest
Book Reviews | Home | Books | CDs | Search | Contact Us | Donate



2002-2012 Tradition in Action, Inc. All Rights Reserved