Feast Days of Our Lady
Our Lady of Good Counsel of Genazzano
April 25 in Genazzano - April 26 elsewhere

Prof. Plinio Corrêa de Oliveira
Some of you asked me to analyze the picture of Our Lady of Genazzano to help order your first impressions.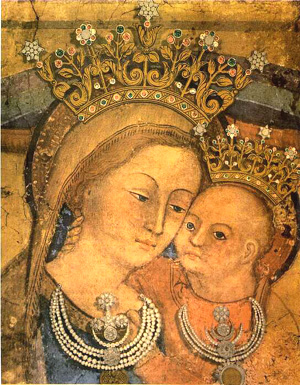 The jewels given by the faithful

You see that this is a picture of Our Lady as Queen. She wears a crown of precious stones; the Child Jesus also wears one. These jewels, given by individuals, were set on the picture in thanksgiving for spiritual favors and miracles worked by Our Lady of Good Counsel. Note the pearl ornaments suspended on the picture. These adornments are oriental in style. You can see one has a kind of half-moon shape. They are legitimate and good things, but you should ignore them in order to analyze the picture as such.

There is a remarkable coherence in the picture revealed more in Our Lady than the Child Jesus. He is less expressive than she. Her face is completely serene; there is nothing in her physiognomy that is tense. Everything in her face gives the impression of her great satisfaction in having her Child in her arms. She is entirely turned toward the fact that she has the Child in her arms; she is thinking only of Him.

It is curious that she is not looking at Him directly, she is looking at the one who is praying to her. But her face touches His forehead giving her the pleasure of His presence. This contact transmits a joy that is above all a communication of souls. She is having a very intimate communication of soul with Him, which gives her this satisfaction. One realizes, moreover, that this pleasure is habitual. It is not some ecstasy or extraordinary phenomenon. It is the impression every mother has when she is in contact with her son. It is a moment when her maternal love is more expressive and blooming, when her tenderness expands in a special way. Our Lady is represented like this here.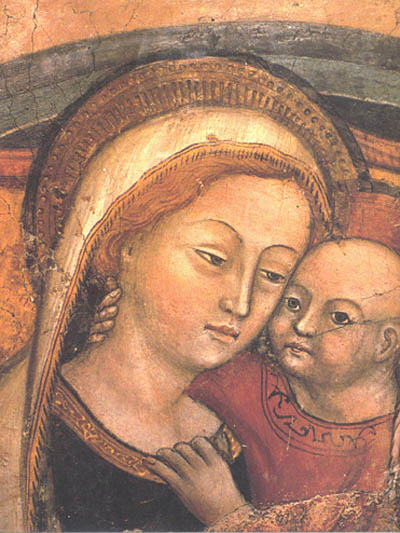 The painting of Our Lady of Good Counsel of Genezzano

Her goodness, tenderness, and protective spirit toward her Son can be noticed in the position of her neck and head. The Child is in her arms and His right hand encircles her neck. This explains why her neck is tilted and her head slightly bent by His weight.

He has an extraordinary intimacy with her. He holds onto to her like one accustomed to such a position. And she permits this like a person who has been in this position a thousand times. She is happy to bear so light and sweet a weight.

The Child has no fear; He holds her like a person who desires nothing else in this world but her. He is entirely for her, as she is for Him. He is happy because He is united to her, and for no other reason. He feels the joy of being protected by her. Neither of them are thinking about anything except the other. When you analyze this Child, you see that He is not thinking about a ball to play with or a bonbon to eat. He only thinks about His mother just as she is thinking solely of Him.

There is, however, a curious contrast in their attitudes. He has an air of dominion. Clasping her neck, He appears satisfied and protected; notwithstanding He looks like her Lord. In her physiognomy, there is veneration and respect for Him. It seems that she is trying to guess what is going on in His soul, paying attention to realize if He will say something. She assumes the air of a person who prays. She is not asking anything in her prayers; she is contemplating His person. It seems to me that she is making an act of contemplation.

He has this great intimacy with her, but His eyes do not look straight at her, they are turned upward. While her eyes look downward, His eyes are raised up toward God the Father. It is the crux of the mediation. We look to her; she looks to Him; and He looks to the two other Persons of the Most Holy Trinity.

Isn't it beautiful how this doctrine of the mediation of Our Lady with the Holy Trinity is insinuated in this picture?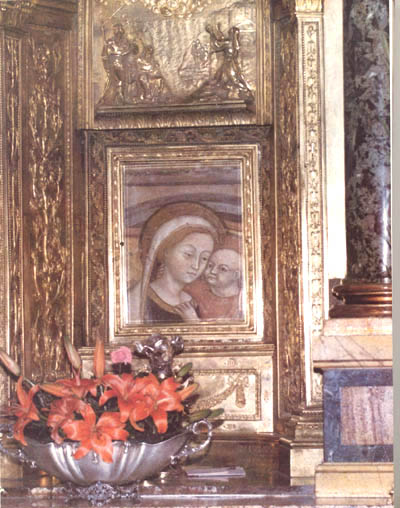 The picture seen from the altar of the chapel of Our Lady of the Good Counsel in Genazzano

Her contemplation of Him does not prevent her from looking at the person who is praying. It is her role: as mediatrix she receives our prayers and transmits them to God. He receives them as God and also transmits our prayers to the other Persons of the Holy Trinity.

So, you have the Catholic doctrine of the mediation of graces delicately expressed in this picture. It does not have the precision of theology, but the subtleness proper to art. It is pleasant to discover this in the picture, without having noticed it at first glance.

Another curious impression: when you draw nearer to the picture to contemplate the relationship between her and Him, you feel yourself invited to enter into their intimacy. You feel yourself being understood, loved, and helped by her, and by Him. You feel yourself adopted by her as a son or daughter and, therefore, like a brother of the Child Jesus.

These are the main impressions the picture suggests. I would advise you to enter this supernatural trajectory of intimacy with Our Lady and Our Lord and remain in it as long as you can. Both of them will help you in your particular needs, preparing you to fulfill your vocation on earth and, afterwards, to enjoy the eternity of Heaven with them.




Read also
The Valiant Woman, Petruccia,
and the Image of Our Lady of Genazzano




Prof. Plinio Corrêa de Oliveira
The Saint of the Day features highlights from the lives of saints based on comments made by the late Prof. Plinio Corrêa de Oliveira. Following the example of St. John Bosco who used to make similar talks for the boys of his College, each evening it was Prof. Plinio's custom to make a short commentary on the lives of the next day's saint in a meeting for youth in order to encourage them in the practice of virtue and love for the Catholic Church. TIA thought that its readers could profit from these valuable commentaries.

The texts of both the biographical data and the comments come from personal notes taken by Atila S. Guimarães from 1964 to 1995. Given the fact that the source is a personal notebook, it is possible that at times the biographic notes transcribed here will not rigorously follow the original text read by Prof. Plinio. The commentaries have also been adapted and translated for TIA's site.



Saint of the Day | Home | Books | CDs | Search | Contact Us | Donate



©2002-2014 Tradition in Action, Inc. All Rights Reserved