Progressivism in the Church
Church Revolution in Pictures

Photo of the Week
Deity Olokun worshiped at the Assisi Basilica
On October 27, 2011, in the presence of Benedict XVI in Assisi, at the Basilica of Holy Mary of the Angels (Santa Maria degli Angeli), voodoo warlock Wande Abimbola from Nigeria sang a hymn to the deity Olokun. Abimbola represented the Yoruba voodoo sect at the Fourth Assisi Inter-Faith Meeting, which commemorated the first of these events held by John Paul II in 1986.

Above, Abimbola singing to his goddess - you may listen to it here; below first row, he greets Benedict XVI after finishing his song and speech; second row, in front of the Portiuncula he is given a place of honor among the pagans, quite close to Pope Ratzinger; third row, an overview of the event inside Santa Maria Basilica; fourth row in the outdoors ceremony (see insert) the voodoo representative is also given a preeminent place. In the fifth row, some other close-ups of Abimbola during his song.

It is difficult to imagine a more honorific position given to a representative of the Devil. But since this encounter is promoted by a Pope and carried out under the pretext of love and peace, it is accepted by most Catholics. It is not surprising that only a universal chastisement can end such an apostasy.

The video of the voodoo warlock's song can be watched/heard here; more news on the event can be found here and here.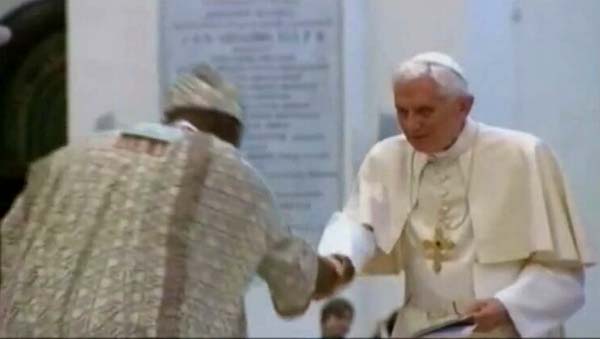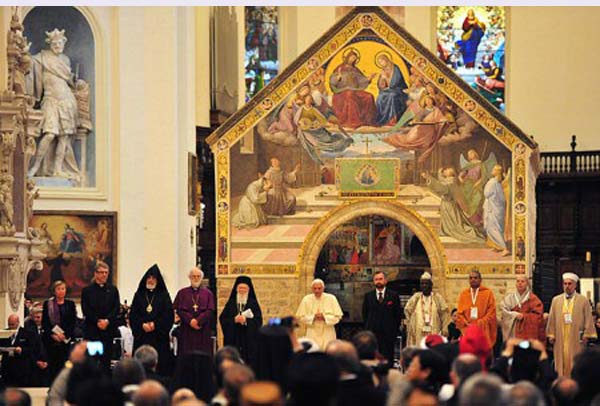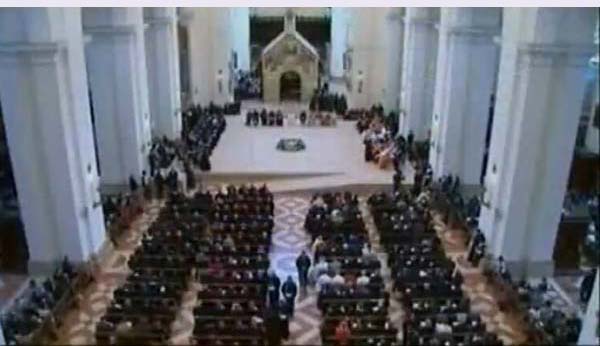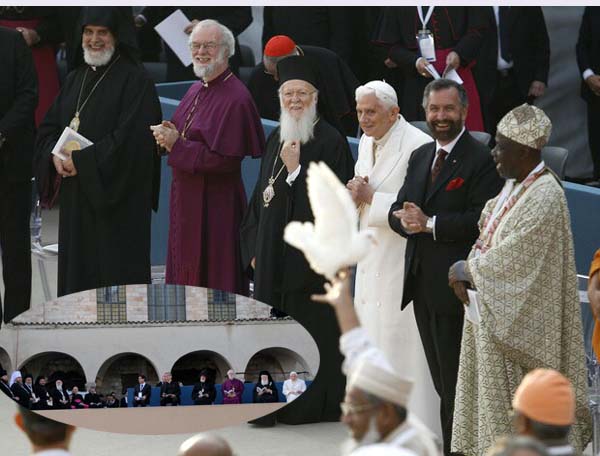 Photos from Gloria TV, Reuters & Internet
Posted November 6, 2011

Related Topics of Interest

JPII Greets Voodoo 'High Priest' in Benin

JPII Receives Voodoo Warlock in Assisi

John Paul II Praises Voodoo in Benin

A Statue of Buddha over the Tabernacle in Assisi

Remember Assisi 1986

Don't Forget Assisi 1993

Assisi 2002 Gathers under the Symbol of Fire

Panreligious Meeting in Assisi - 2002

The Panreligious Encounter in Barcelona

Benedict 'Blessed' by Witch Doctor in Australia
Pictures | Home | Books | CDs | Search | Contact Us | Donate



©2002-2014 Tradition in Action, Inc. All Rights Reserved