Progressivism in the Church
Church Revolution in Pictures

Photo of the Week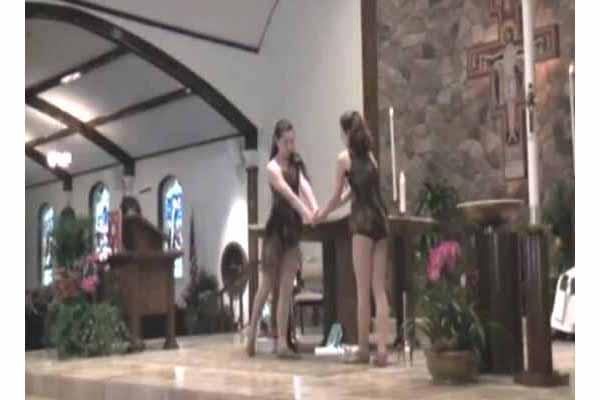 Where did this show of legs take place?
These pictures were taken from a video of a quite immoral ballet performed by two young women in an unidentified Catholic Church. The supposition that the Church is Catholic is based on the San Damiano Crucifix on the main wall, as well as a Paschal Candle beside the altar, shown in the picture above. Also, the vestments of the three priests who appear briefly at the start of the video and a stained glass window that seems to represent St. Bernadette, last row, incline us to think that this is a Catholic church.

We would thank any reader who is familiar with this church to enlighten us with more data so we can provide precise information on this page.

Working with this probability, we see a tendency that inspires the growing presence of girls on the altar during Mass. Under the pretext of art, women are increasingly revealing their arms and legs in bold, sensual positions that a short time ago would not have been permitted at the festivities of any good Catholic family gathering. We wonder where this tendency will lead.

To watch the video, click here.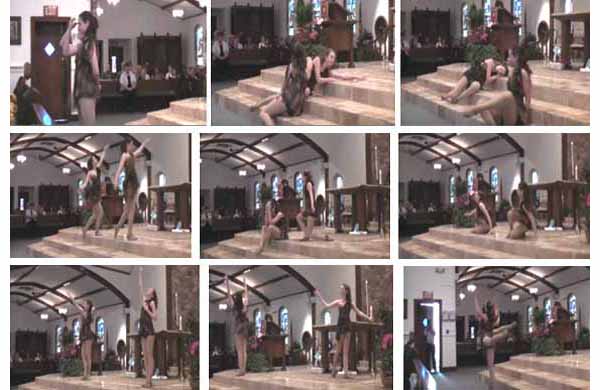 Posted August 15, 2010

Related Topics of Interest

The Cathedral of Joliet's Acolytes

Liturgical Dancing over an Altar in Cleveland

Benedict's Altar Girls

A Monumental De Facto Approval of Altar Girls

Nun Dancing in Obscene Postures

A Dutch Priestess in the Making

An Austrian Priestess

At a JPII Mass the Epistle Is Read by a Topless Woman

A Semi-Naked Native Brings the Offertory Gifts for JPII's Mass

Card. Mahony Female Acolytes Invade the Altar

The Dancing Girls of Cardinal Mahony

Archbishop Levada with Altar Girls

Card. Ratzinger on Feminism
Pictures | Home | Books | CDs | Search | Contact Us | Donate



©2002-2014 Tradition in Action, Inc. All Rights Reserved