Progressivism in the Church
Church Revolution in Pictures

Photo of the Week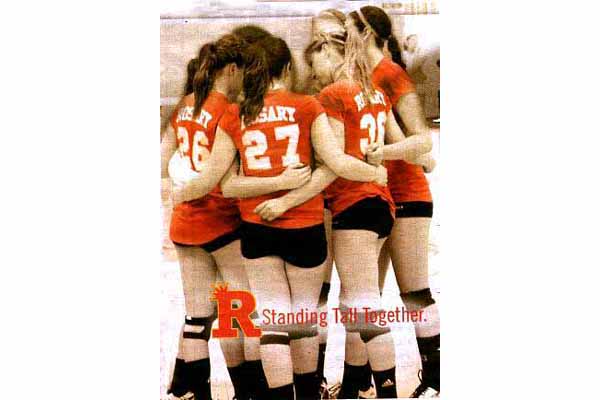 How a Catholic high school advertises today...
Looking for an upright moral formation for your daughter? Be careful not to be misled. Above is how a Catholic high school in Southern California presents itself to attract its future pupils. A display of legs of a group of teenagers in their volleyball hot-pants!

Don't be surprised, the name Rosary on their shirts is the name of the high school, short for Our Lady of the Rosary, under whose protection the school was established in 1965 by the Sisters of Saint Joseph. Both Our Lady and St. Joseph are the highest models of modesty and purity... One would expect more modesty in an advertisement promoting a Catholic school and a better moral orientation from its directors. Or would he?

Perhaps not, considering that Rosary High School has followed Vatican II's lead. We do not know to what degree these girls can be blamed, since they follow the orientation of the Sisters. We are not sure how guilty the Sisters are since they follow their Superiors and this kind of girls' clothing is accepted as normal by the Diocese of Orange County and the Archdiocese of Los Angeles. Finally, how guilty are Cardinal Mahony and Bishop Brown when we have a Pope that preaches Theology of the Body and tells Catholics that nothing is wrong when a woman exposes her body? Yes, Our Lady of La Salette was right: The apostasy comes from the top (see n. 28).

Below the half-page advertisement published in the November 6, 2009 issue of The Tidings, the official weekly paper of the Archdiocese of Los Angeles.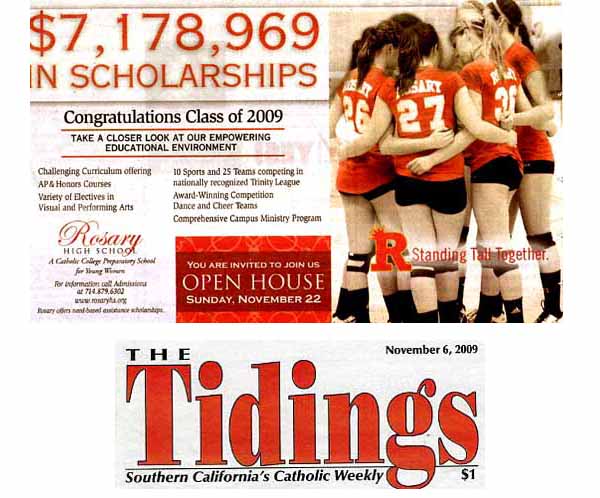 Posted December 13, 2009

Related Topics of Interest

Card. Karol Wojtyla Defends Nudism

The Canonization of Wojtyla, the Moral-Free Pope

John Paul II Greets a Group of Semi-nude Women

Bare-legged Young Women Perform Dances for the Pope

A Semi-naked Woman Presenting the Gifts of the Offertory

Women in Sports: Natural and Unnatural Challenges to Purity

Liberated Women Are Unhappy - Are Your Surprised?
Pictures | Home | Books | CDs | Search | Contact Us | Donate



©2002-2014 Tradition in Action, Inc. All Rights Reserved