Progressivism in the Church
Church Revolution in Pictures

Photo of the Week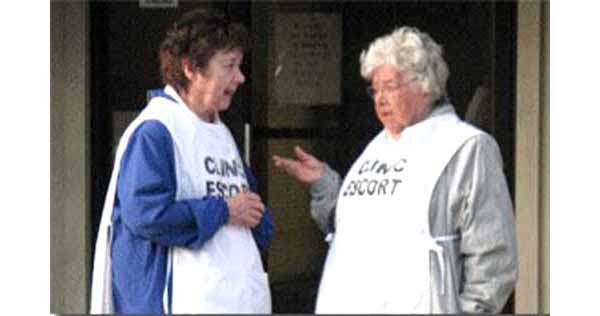 The abortion nun of Illinois
Above left is Dominican Sister Donna Quinn wearing her escort apron at the ACU Health Center in Hindsdale, Illinois, a clinic for women to abort their children. Sr. Quinn's task is to face pro-life protesters who try to convince the women entering the clinic not to have an abortion. Quinn argues with the pro-life Catholics and encourages the woman to go ahead with her decision, escorting her to the door of the facility.

Sr. Quinn is a coordinator of the National Coalition of American Nuns (NCAN), a radical organization that is favorable toward contraception, abortion, homosexuality and women priests.

On October 23, the scandal of Quinn's active participation in abortions was highlighted by Life Site News, which brought the matter to public attention. On that occasion Sr. Patricia Mulcahey, the Prioress of the Wisconsin-based Sinsinawa Convent to which Quinn belongs, defended Quinn's action. Later, on November 2, pressured by growing public indignation, Sr. Mulcahey issued a statement saying Quinn had been reprimanded and the Dominican religious of her convent "regretted that her [Quinn's] actions have created controversy and resulted in public scandal."

One wonders if this is a truly doctrinal censure or just a "political" one, issued because abortion is being discussed in Congress at the moment as part of the government's Health Care Plan. Indeed, since the Bishops are supporting the Plan as long as it does not subsidize too many abortions, a scandalous nun in Illinois promoting abortion might damage their position.

Obliged to suspend her activities, as the Chicago Tribune reports, Quinn did not give up her position. Instead, she blamed the pro-life protesters for halting her 'apostolate': "I take this opportunity to urge those demonstrating against women ... to cease their activities. I would not have to serve as a peacekeeper had not they created a war against women."

Franciscan Sister Beth Rindler, also a coordinator of NCAN, gave Quinn her full support: "We are standing with her very much. We consider her one of our prophets. She is standing with women who she believes can make good moral decisions."

Below first row, Franciscan Sister Beth Rindler in Detroit demonstrating against the war. Second row, standing in the center dressed in black and white is Prioress Patricia Mulcahey posing with the Dominican Council...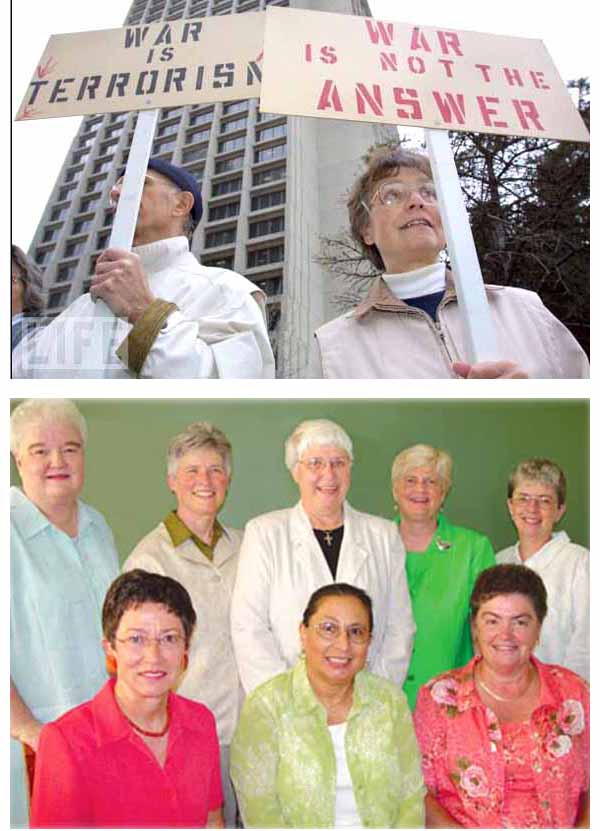 Internet photos
Posted November 22, 2009

Related Topics of Interest

Dominican Nuns Celebrate Halloween

Women Priests: The Process Started

How Long Will It Take To Ordain Woman Priests?

Muddy Dominican Sisters

God the Mother's Blessing in Austria

A Dutch Priestess in the Making

Belgian Nun Dances with Priest in Obscene Poses
Pictures | Home | Books | CDs | Search | Contact Us | Donate



©2002-2014 Tradition in Action, Inc. All Rights Reserved