Progressivism in the Church

Church Revolution in Pictures

Photo of the Week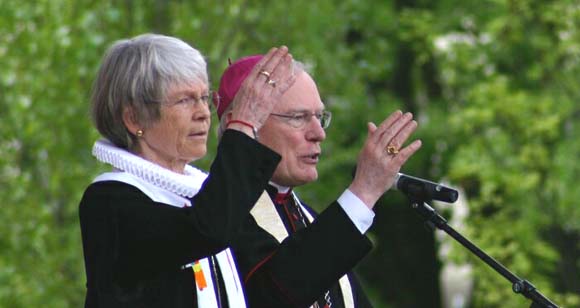 Kreutz.net
The Hamburg ecumenical blessing
Above, Archbishop Werner Thissen of Hamburg, Germany, gives a blessing together with Lutheran bishop Maria Jepsen during an ecumenical service on May 1, 2008.

The Archdiocese of Hamburg, the German Workers Union (DGB) and the Lutheran church came together to promote a joint commemoration of workers' day. The festivities included an ecumenical service attended by some 1,500 people in which the representatives of the Catholic Church and the Lutheran sect spoke as equals, below first row. The blessing was given at the end of that service.

In the second row, we can see the three banners hanging from the wall behind the podium: the DGB's, the symbol of the Archdiocese of Hamburg and the cross of the Lutherans.

The Catholic Magisterium always qualified these meetings as the promotion of religious indifferentism. The conciliar teachings, on the contrary, tell us that they reflect the "Church of Christ" made up of Catholics and Protestants...

Related Topics of Interest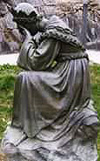 Our Lady of La Salette,
restore the Holy Church
Pictures | Home | Books | Tapes | Search | Contact Us



©2002-2008 Tradition in Action, Inc. All Rights Reserved