Progressivism in the Church
Church Revolution in Pictures

Photo of the Week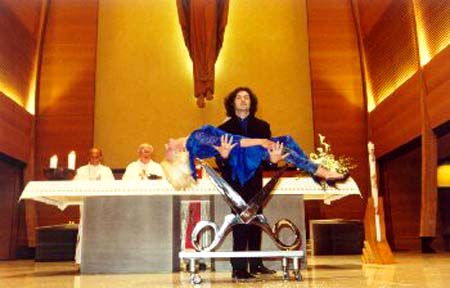 Photos from Una Voce Venezia
In Venice, a magic Mass
On May 27, 2001, in the city of Colle, North Italy, Archdiocese of Venice, more than 200 different groups of magicians and clowns gathered together in response to the invitation of Fr. Silvio Mantelli. They met at the church and a Mass was the high point of the schedule. During it, magicians and illusionists performed their shows, such as the levitation
shown in the photo above.

Fr. Mantelli invited performers and people for "a moment of magic for those who want to laugh with us."

The Friends of Magic of Turin, as well as magic clubs of Bologna, Brescia, and Trieste were present, among many others.

It was a clear desecration of the Holy Mass and the church, and is planned to be repeated each year in May.

Curiously enough, the Bishop of Belluno-Feltre, under whose jurisdiction Colle directly falls, does not allow any Tridentine Mass to be said in his Diocese, while he readily permits the one displayed here.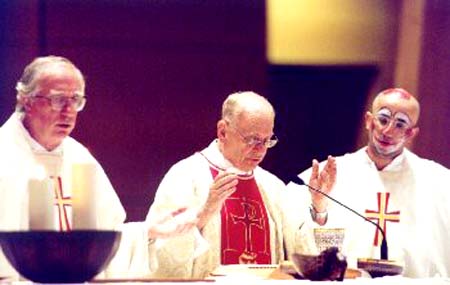 From the left, Fr. Silvio Mantelli also known as Salles the Magician, Fr. Larry Lorenzoni, and the priest-clown, Fr. Paolo

Related Topics of Interest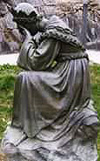 Our Lady of La Salette,
restore the Holy Church
Pictures | Home | Books | Tapes | Search | Contact Us



©2002-2007 Tradition in Action, Inc. All Rights Reserved