Progressivism in the Church
Church Revolution in Pictures

Photo of the Week



30 Giorni, July-August, 2000 30 Dias, June 1993




Is the Catholic Church still a Monarchy?
Top left is a close-up of the ceremony of coronation of John XXIII that took place on November 4, 1958. The ceremony still followed the traditional customs of the Church. The Tiara consists of a triple jeweled crown, which symbolizes the papal powers to govern, teach, and sanctify the Church. The Pope wears gloves marked with the symbol of the Holy Sacrament, and the Fisherman's ring.

Top right, is pictured the coronation of Paul VI on June 21, 1963. He still wears the gloves and the Fisherman's ring, but his Tiara has a single crown at the base; the height of the dome is approximately the same as the traditional triple crown.

First row below, is the photo of the "inauguration" of John Paul II on October 22, 1978. There is no longer a Tiara. He only receives the pallium, a secondary symbol not reserved exclusively to the Pope, but also conferred on Archbishops and some Bishops. At the ceremony, John Paul II is still seated on the Pontifical Throne.

Second row below, at left, after being elected Pope but before his "inauguration" on April 24, 2005, Cardinal Ratzinger blesses the only remaining symbols of the Papacy: the Fisherman's ring and the pallium on the silver trays. At the actual ceremony, at right, he receives the pallium standing, no longer seated on the Throne.

All these steps abolishing the monarchical symbols of the Papacy seem indisputable symptoms of a change in the way the Papacy itself is being conceived. Indeed, according to Progressivism, the Papacy should abandon its monarchical characteristics and adopt democratic ways of being and governing the Church in order to please the revolutinary world, as well as the Protestant and Schismatic sects.

It is a clear denial of the Papacy as it was established throughout its 2,000 years of History.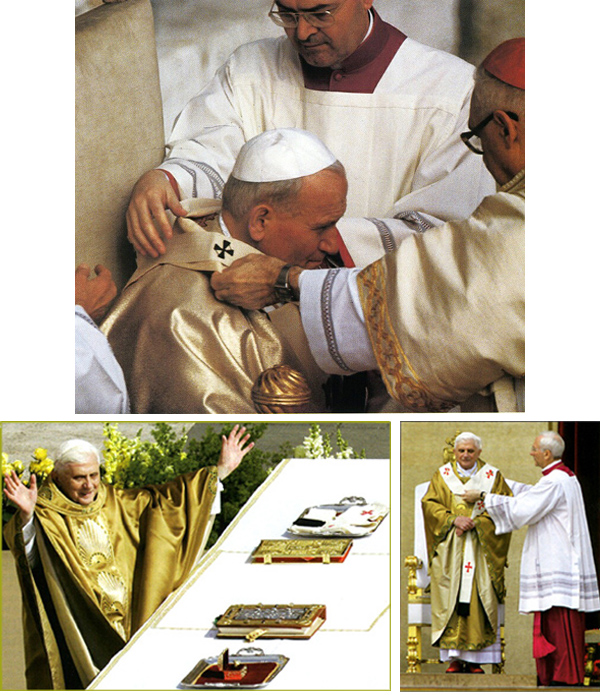 Life, A Tribute, no date - Inside the Vatican, May, 2005
Posted June 18, 2006

Related Topics of Interest

On the traditional symbols of the Papacy

And the circus continues...

JPII transforms an Eucharistic Congress into a rock concert

Benedict wears Hawaiian leis

John Paul II poses in a carnival mask

Pope Ratzinger dons a military hat

Benedict XVI introduces the use of sunglasses
Pictures | Home | Books | CDs | Search | Contact Us | Donate



©2002-2013 Tradition in Action, Inc. All Rights Reserved