Progressivism in the Church
Church Revolution in Pictures

Photo of the Week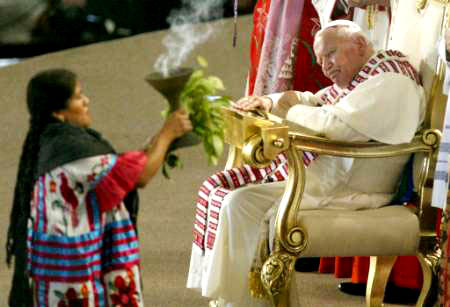 Internet photo
On August 1, 2002, John Paul II was 'blessed' in a pagan Indian ritual at the Cathedral of Our Lady of Guadalupe, Mexico City.

The ritual was executed by the Zapotec Indians from the State of Oxaca.

The Mass said by John Paul II was a ceremony celebrating the beatifications of Juan Battista and Jacinto de los Angeles, two Catholic Indians who shed their blood for the defense of the Catholic Faith.

The martyrs, functionaries of the local Inquisition, discovered that an idolatrous Indian ritual would take place in the city of Vila Alta de St. Ildefonso, Oxaca. They went to the site, prevented the ritual from being carried out, and confiscated the instruments of worship.

The next day, the Indians retaliated: They went to the Dominican Monastery of the city, where the two officials had taken refuge, and demanded that the two be handed over to them so that they could take their revenge. The Dominicans hesitated for one day, but then agreed.

The Indians offered Juan Battista and Jacinto de los Angeles their freedom if they would assent to the Indian idolatry. They refused, and were killed after undergoing cruel tortures. Their hearts were taken from their chests and given to dogs. The day of their martyrdom was September 16, 1700.

It is astonishing that John Paul II allowed idolatrous rituals similar to those that the martyrs died to prevent, and that this took place at the very Mass recognizing their martyrdom.

Above, John Paul II being 'exorcized' by a Indian priestess;
Below, he is immersed in the smoky atmosphere of burning herbs at the pagan ritual.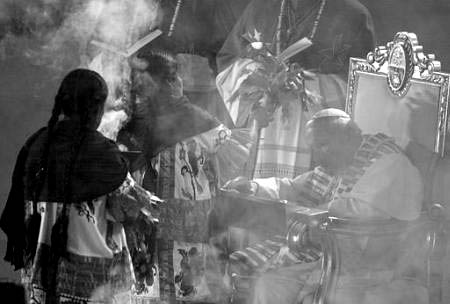 Internet photo

Related Topics of Interest
Pictures | Home | Books | Tapes | Search | Contact Us



2002-2007 Tradition in Action, Inc. All Rights Reserved