Progressivism in the Church
Church Revolution in Pictures

Photo of the Week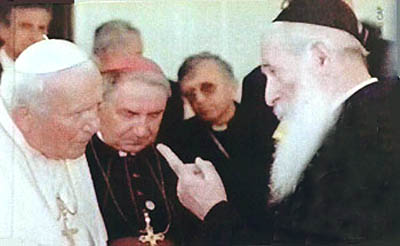 Czesc 2, June 1999
June 11, 1999

On one of his visits to Poland, John Paul II is lectured by chief rabbi Menachem Joskowicz, who demands that he remove the last cross from Auchwitz.

In the prayer he made the same day, John Paul II asked God that the Jews "might be able to reveal to the world the power of Your blessing." He added, "Remember the new generations, the youth and children, unchangeably faithful to You, that they remain stablein what constitutes the singular mystery of their vocation."

Indisputably, a strong support of Judaism as a religion.




Related Topics of Interest
Pictures | Home | Books | Tapes | Search | Contact Us



2002-2007 Tradition in Action, Inc. All Rights Reserved