International Affairs
Schwarzenegger Flexing Muscles for Moscow

Toby Westerman
Receiving Russian president Dimitri Medvedev in California, its governor, former body builder and movie star, Arnold Schwarzenegger has pledged to lead a trade mission to Russia and assist "in any way possible" Russia's drive to develop its own high tech "Silicon Valley." U.S. president Barack Obama has also promised his backing in facilitating the flow of U.S. technology to Russia.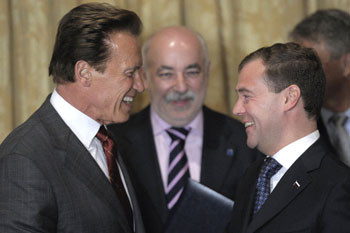 Schwarzenegger: We will help you in any way possible

The eager participation of Schwarzenegger and Obama in exporting U.S. technological capabilities came during Russian president Dmitry Medvedev's three day visit (June 22-24) to the United States. Medvedev was looking for technological assistance, and in return offered an increase in U.S. corporate profits and an attractive return for investors.

Medvedev's campaign for venture capital and high tech aid occurred as his "new" Russia is looking increasingly like the old Soviet Union. Stark warnings about the true intensions of the Moscow elite are coming from vocal opponents within Russia, but are ignored by many in positions of power and influence in the United States.

The Russian "Silicon Valley" effort, known as the Skolkovo Project (named after the Moscow suburb in which it is located) has already gained wide support in the United States. Boeing, Google, and Cisco are among the U.S. corporate giants participating in Skolkovo, and the Massachusetts Institute of Technology (MIT) has agreed to take part in joint research. MIT may establish a separate research group with Russian high tech corporations located at Skolkovo.

Millions of dollars of U.S. investment funds are already designated to be transferred to the Skolkovo Project.

One may wonder why these investments were not directed toward U.S. technological ventures, especially during the current recession/depression?

The working assumption surrounding cooperation with Russia is that Moscow is our friend, and the bad old days of confrontation are long over. After all, the Soviet Union collapsed in 1991 - almost 20 years ago.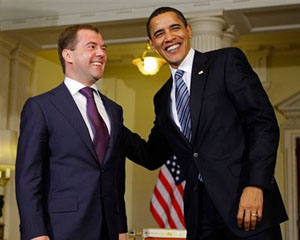 Obama opens every door to his "friend and partner" during Medvedev's recent shopping trip here for technology

Obama is a firm believer in the Russia-is-our-friend concept. During a joint press conference with Russian president Dmitry Medvedev at the White House on June 14, 2010, Obama called Medvedev "my friend and partner," and declared Russia to be a "solid and reliable partner" that demonstrates "transparency, accountability and the rule of law."

There are those, especially in Russia, who disagree with Obama's assessment and are warning the world about the future intentions of the Moscow elite.

One of Russia's leading human rights activists, and a former Soviet dissident, Sergei Kovalyov, openly declares that Russia is not a democratic State and the present Moscow leadership is similar to the old Soviet rulers.

In a March 2010 interview with Radio Free Europe/Radio Liberty on the occasion of his 80th birthday, Kovalyov expressed his sadness over events following the collapse of the Soviet Union. Kovalyov stated that during the early 1990s, following the collapse of the USSR, "the wave of love for democracy [in Russia] was just a passing phase."

The present Russian government under Medvedev differs little from the regime of former Soviet dictator Josef Stalin, where human rights existed on paper but not in practice.

"Russians show no shame about the fact that our constitution today is virtually the same as it was under Stalin," Kovalyov said. He placed some blame on the Russian people, saying, "We feel no shame that we have no elections, no public demonstrations."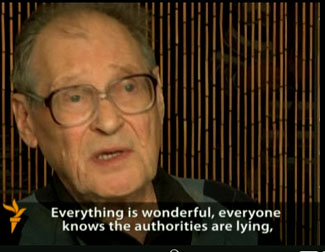 On his 80th birthday, Russian humans rights activit Sergei Kovalyov admits "a collapse of hope"

Kovalyov is unreserved in his estimation of the Russian leadership: "Everyone knows that the authorities are lying."

One of Kovalyov's fellow activists, Elena Bonner, wife of the famous Soviet dissident Andre Sakharov, described the reality of the present Soviet government when she said at Harvard University in November 2004, "To put it simply, Russia is under the control of the KGB..."

While Medvedev was enchanting Schwarzenegger and Obama, a former member of Russia's elite political inner circle warned the West about the dangers of a naïve trust of Moscow.

Mikhail Kasyanov, former Prime Minister under Vladimir Putin, urged Western governments to avoid excessive enthusiasm for profitable investments in Russia. The former insider to the Moscow power elite urged the West to be "more principled" in dealing with Moscow.

Kasyanov also asserted that there was no split between "ex"-KGB operative Putin and Medvedev, often touted as an advocate for authentic democracy within Russia. Kasyanov stated that not only was Medvedev not a source of "modernization and change," but that there "is no gap between him and Putin."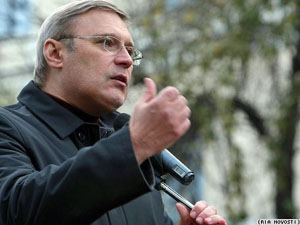 Former Prime Minister under Putin warns the West that Moscow has not changed

In point of fact, there is no disagreement among the Moscow elite – whether they appear to be closer to Medvedev or to Putin – regarding Russia's expensive military modernization program or its support of pro-terror governments.

For several years Moscow has been engaged in a sophisticated modernization and build-up of its armed forces in every conceivable area, from small arms and nuclear submarines to a thorough reform of the military command structure.

Military technology is vitally important to Russia's plans to deploy a military equal or superior to that of the United States. Recently, Moscow has unveiled its multi-warhead RS-24 intercontinental ballistic missile, which the Russian claims can defeat any U.S. missile system, whether now deployed or in development.

The Russian military is also proud of its new Sukhoi T-50 fighter, which Moscow claims is superior to America's F-22 Raptor or the F-35 Lightening II.

Moscow is breaking with the old Soviet tradition in at least one respect: Russia is no longer reluctant to openly purchase foreign technology. Moscow is at present going on an estimated eight billion dollar spending spree to acquire foreign military hardware to update Russian capabilities.

Russia's growing technological abilities will be placed in the service of a society that increasingly views the Soviet past with pride instead of one of the darkest periods of human history.

Moscow's foreign policy betrays a particular anti-American strain as it continues to support the communist pro-terror States of Cuba, Iran, Syria, Venezuela, Nicaragua, North Korea, Vietnam and China.

Patriotic members of Congress must act to restrain and, if possible, check the wholesale exportation of U.S. technology to a nation whose foreign policy supports nations hostile to the U.S., whose military and espionage services are directed against America as its main enemy, and whose ruling elite do not understand that Soviet tyranny is not to be admired or emulated in a way.

American survival and the existence of God-given freedom depend on it.



Posted June 30, 2010




Toby Westerman publishes
International News Analysis - Today
An investigative, analytical, and uncompromising weekly analysis of the world situation

Contact T. Westerman at
www.inatoday.com
or P.O. BOX 5182, Rockford, ILL, 61125-0182





Related Topics of Interest

Stalin - Historically Incorrect

The Rise of the Neo-Communist Empire

Color Variations in Communism

Tribalism: the Next Step after Communism

What Happened to the Fall of Communism?

Russia Rearming

Gramsci's Influence on the Academia and Media

Related Works of Interest
International Affairs | Home | Books | CDs | Search | Contact Us | Donate



©2002-2014 Tradition in Action, Inc. All Rights Reserved