International Affairs
Are These Rockets Yours, Hugo?

Toby Westerman
Russian President Dmitry Medvedev recently sent warm birthday wishes to the neo-Communist president of Venezuela, Hugo Chavez, with tighter military cooperation as one of Moscow's presents. A formal Russian-Venezuelan commission on military-technical cooperation will coordinate future Russian arms sales to Chavez.



Russian Igor Sechin wishing happy birthday to Chavez. Venezuela bought $4.4 billion in Russian arms.

Medvedev's sentiments were conveyed by Russian Deputy Prime Minister Igor Sechin, who was present in the Venezuelan capital, Caracas, to conclude a series of cooperation agreements with the Chavez regime. Sechin also worked with Chavez to set up in Russia an up-coming mid-August meeting of what is referred to as the Russian-Venezuelan High Level Intergovernmental Commission.

The agenda will center on a closer working relationship between Moscow and Caracas. Venezuela will be represented by Vice President Ramon Carrizalez, who holds the rank of general. Carrizalez also functions as Venezuela's Defense Minister, indicating the importance of Russian-Venezuelan military cooperation - including "intelligence equipment" - within the activities of the Intergovernmental Commission.

The Chavez regime has already purchased $4.4 billion in arms from Russia, and has made no secret about its readiness to buy more. Moscow is open about its willingness to sell Chavez as much as he can purchase.

Chavez is in a buying mood for a number of reasons, one of which involves an expanded U.S. military presence in Colombia, after the American military was asked to leave its base in now pro-Chavez Ecuador. The Chavez regime is further militarizing its border with Colombia.

Another reason for the armament buying spree is his expansionist tendencies. In public comments following the final meeting with Sechin, Chavez reiterated his vision for Latin America, which involves the appearance of what he calls a "new regional pole of forces." This is a reference to Chavez's "Bolivarian Revolution," the destruction of democratic capitalism replaced by neo-Communist tyranny. Chavez acknowledged that this "new regional pole of forces" was possible "thanks to the cooperation with Russia."

After Sechin left the 55-year-old Chavez, he flew to Nicaragua to ensure that Moscow has the closest of ties with the Marxist-dominated regime of Daniel Ortega.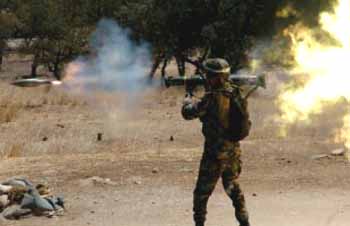 Swedish rockets sold to Venezuela were passed on to the Colombian FARC guerillas, below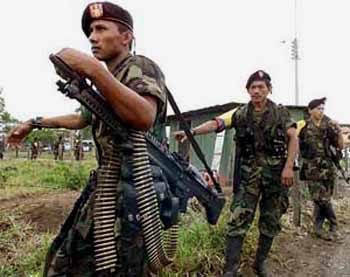 Chavez, however, remained in Caracas to fend off accusations that he is sending rockets to a Communist narco-guerrilla army operating from Colombia. While Moscow was sending expressions of unreserved support, Chavez was becoming embroiled in what is now a major scandal in Latin America. The government of Colombia had been able to trace shoulder-carried rockets it captured from the FARC guerrilla army to their origin in Venezuela.

The FARC is the Spanish acronym for the Revolutionary Armed forces of Colombia, a Marxist narco-terrorist army that has been attempting to overthrow the government of Colombia for 40 years. The FARC has operatives active throughout the Western hemisphere and in Europe.

The rockets captured were the AT-4 type, manufactured in Sweden and sold in the 1980s to Venezuela. The Swedish government has joined Colombia in investigating how the rockets came into the hands of FARC guerrillas. Sweden no longer sells weapons to Venezuela, observing a U.S. ban on arms sales to Chavez, a ban that Moscow does not observe.

Although the AT-4 is not the most sophisticated of shoulder-fired rockets, their presence is an increased threat to Colombian military personnel and their U.S. advisors. Regular American military troops in the region are also at risk, since they are active in anti-drug smuggling operations, which is a top income producer for the FARC.

The rocket scandal is a major embarrassment to Chavez, who has said that he does not aid the FARC and has made public statements urging the FARC to lay down its weapons.

Chavez, in reality, is no peace maker, but sits atop a network dedicated to the destruction of the United States and the imposition of Marxist rule in the Western hemisphere - including the United States.

He is not merely "leftist" as he is described by the centralized Media. The Chavez network includes guerrilla fighters - both FARC and the old Sandinista organization from Nicaragua, drug cartel paramilitary organizations, above-ground political organizations, and a cooperative media in the United States.

Although the Chavez network is extensive, both he and his allies would be only a minor annoyance, except for the avid support of Moscow.


Posted August 12, 2009




Contact T. Westerman at
www.inatoday.com
or P.O. BOX 5182, Rockford, ILL, 61125-0182




Read
Lies, Terror, and the Rise of the Neo-Communist Empire
by Toby Westerman





Related Topics of Interest

Narco-Terror Army Threatens U.S.

The Web of Terror

The Honduras Impeachment

Honduras and Chavez: What the Media Is Not Telling You

Color Variations in Communism

Related Works of Interest
International Affairs | Hot Topics | Home | Books | CDs | Search | Contact Us | Donate



©2002-2013 Tradition in Action, Inc. All Rights Reserved