International Affairs
Leftist Bias in Vet's Sights

Toby Westerman
Retired Air Force Lieutenant Colonel "Buzz" Patterson warns of a threat to national security developing at home which is as serious and profound as any foreign enemy, and he is preparing to launch a campaign to win the struggle at home.

Patterson made his statements during an exclusive interview with International News Analysis.

A combat veteran pilot and twice New York Times best-selling author, Patterson is Chief Executive Officer of the Center for the Study of Popular Culture, an organization founded by David Horowitz, publisher of the Internet magazine Front Page, and also a best-selling author.

Patterson is deeply troubled by the steady stream of misinformation about Iraq and U.S. troop actions in that country from the traditional news media, and the unwillingness of the media to examine the motives, tactics, and overall strategy of militant Islamic terror groups.

Patterson stated that celebrity leftists are using their influence and wealth to undermine support for the war on terror, while some academics are attempting to justify militant Islam's war on America.

Self-serving politicians, taking advantage of this anti-American domestic propaganda, are ready to come to power, to undermine the American military, and yield to terrorist pressure, said Patterson.

Should leftist politicians triumph in this year's Congressional elections and fulfill their promise to quickly withdraw from Iraq, U.S. troop morale would plunge, and the entire region would descend into bloody conflict, "a chaotic situation on an epic scale" as Islamic militants press their advantage against a retreating America and its allies, Patterson declared.

Millions could die, as did in Cambodia and Vietnam after America's quick withdrawal from Vietnam, noted Patterson.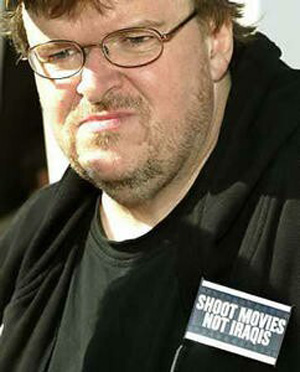 Above, director Michael Moore
Below, actors Martin Scheen and James Cromwell in an anti-war manifestation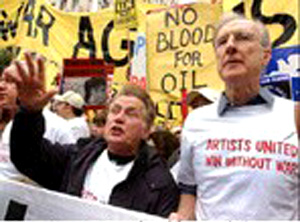 At home, the leftist assault on America's defense and intelligence services would follow the course set after the U.S. withdrawal from Vietnam, according to Patterson. A Congressional assault would leave the nation's defenses weakened, and could pave the way for a far-left, "McGovern-type" candidate, who could win the presidency, Patterson told International News Analysis. America is in a struggle which "will determine the future course of the nation," and a loss to anti-war, pro-terror politicians could deliver a blow to national defense "from which the nation may never recover," warned Patterson.

Patterson strongly denied the claim of the "peace movement" that U.S. involvement in Iraq parallels America's intervention in Vietnam, with the exception that leftist misinformation is undermining the morale of the American public.

Much of the financial support for the "peace movement" comes from leftist-oriented foundations, including the Ford Foundation and organizations supported by billionaire George Soros, but substantial sums of money - and favorable publicity - also come from the celebrity left in Hollywood, California.

There are reports that leftist actress Susan Sarandon will play Cindy Sheehan in a movie tentatively entitled, "Peace Mom."

Patterson's headquarters is based in Los Angeles, where he has observed that "Hollywood has a group think which excludes supporting the war on terror or pro-family positions." Conservatives do work in Hollywood, but they keep their politics private for fear of retribution, Patterson stated.

Hollywood's anti-American films and celebrities have damaged the film industry in the domestic market, but sales are booming overseas in Europe, the Middle East, and in Asia, where anti-Americanism sells. In 1970, 75 % of Hollywood's audience was American, today 66 % of those viewing Hollywood productions are foreigners, according to Patterson's research.

"Our popular culture is kowtowing to the international market now," Patterson declared.

Despite an estimated five-to-one advantage of the left in funding, Patterson believes he and his allies can achieve a balance in U.S. politics and culture. Patterson is determined to bring to college campuses and high schools speakers from the military services to counter the propaganda from leftist organizations already entrenched in America's schools.

Patterson's most recent book, War Crimes, the Left's Campaign to Destroy Our Military and Lose the War on Terror, is scheduled to appear soon, and takes aim at the sources of anti-American propaganda pervading U.S. culture.

The Liberty Film Festival is a resource that Patterson and Horowitz plan to use to counter the Hollywood left, and the online resource to research the political left, Discover the Networks, which enables the general population to access the strategies and resources the left employs against its opponents.

The battle is joined. America can win the propaganda war.



Posted September 4, 2006




Toby Westerman publishes
International News Analysis - Today
An investigative and uncompromising weekly analysis of the world situation

Contact T. Westerman at
www.inatoday.com
or P.O. BOX 5182, Rockford, ILL, 61125-0182





International Affairs | Home | Books | CDs | Search | Contact Us | Donate



©2002-2013 Tradition in Action, Inc. All Rights Reserved