International Affairs
The Metamorphosis of Che Guevara

Toby Westerman
On October 8, 1967, Bolivian government troops, tipped off by local residents, ambushed a small band of communist guerrillas led by Ernesto "Che" Guevara. Reports indicate that Che may have been executed the following day.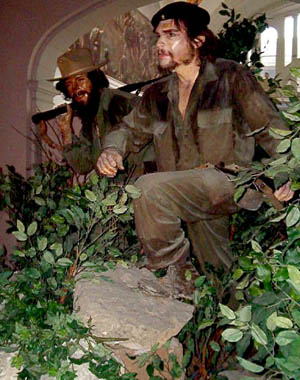 A monument to revolutionaries Che Guevara and comrades in the Museum of the Revolution in Havana, formerly the Presidential Palace, below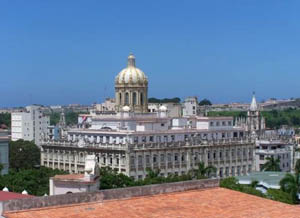 Since Che's capture and death, Cuba has set aside each October 8th as the "Day of the Heroic Guerrilla," and erected a mausoleum to house the recovered remains of Che Guevara and his fellow rebels. A publishing house with offices in the U.S. is committed to "disseminating the works and ideas" of Che, and Robert Redford has helped to produce a major film about Che's early life. Che has graduated from ambushed guerrilla to full-blown myth, and has more influence now than before he was ambushed in a ravine. In an unfortunate irony, the new president of Bolivia, Evo Morales, has the same political ideology as Che.

Trained as a physician, Che was one of the original group of Castro's revolutionaries, and commanded communist troops in a major victory which led to the fall of the dictatorship of Fulgencio Batista. Through Che's efforts, a generic Latin American strongman was replaced with a much more effective totalitarian regime. Castro has been El Comandante for nearly fifty years, and he has turned a banana republic into a Soviet-type, tropical gulag.

Even the anti-American, hard left president of Argentina, Nestor Kirchner, has been forced to recognize the prison-like environment of Cuba. Kirchner has demanded that Castro allow Cubans with relatives in Argentina to leave the island for a family visit.

Che was born and raised in Argentina, and became a citizen of Cuba only after Castro's victory. Castro and his understudy in tyranny, Hugo Chavez, were in Argentina in late July to attend a summit meeting of the Latin American trade group, Mercosur, in the city of Cordoba.

After the summit concluded, and both had denounced U.S. "imperialism," Castro and Chavez visited Che's boyhood home and museum in Alta Gracia, not far from Cordoba. Some 5,000 people met Castro with shouts of "Olé, olé, olé! Fidel, Fidel!."

Chavez and Castro took time for photo-ops.

Chavez and Castro basked in the myth of Che as an idealist, as a "philosopher," and as a "humanist." During his human incarnation, however, Che urged Soviet dictator Nikita Khrushchev to launch a nuclear strike against the population of the United States at the height of the 1962 Cuban missile crisis.

If Khrushchev had followed Che's advice, the world would not be able now to support life, much less the myth of Che.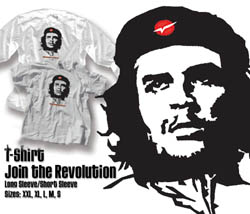 Che appears on t-shirts, baseball caps and coffee mugs in the U.S.

Following Castro and Chavez's march down memory lane, Fidel went home to meet with the many terror groups located in Cuba, and to attempt to perpetuate Cuba's Marxist regime after his much anticipated death.

Chavez left Che's home and flew to Belarus, an Eastern European nation on Russia's western border, which has the misfortune to be the only Soviet-style regime remaining on the continent. Belarus is so Soviet that the KGB is still called the KGB.

Upon arriving, Chavez carried on the work of Che by advocating a "strategic alliance" intended to "save the world" from the "madness" of the "imperialist" U.S.

Closer to home, Americans can readily inform themselves of Che and his "ideals" in local bookstores, where the still-young revolutionary can be seen on book covers, T-shirts, and wall hangings, staring intently out toward some distant horizon, possibly in the direction of New York City, where he sees mushroom clouds forming.



Posted June 28, 2006





Toby Westerman publishes
International News Analysis - Today
An analytical and uncompromising weekly analysis of the world situation

Contact T. Westerman at
www.inatoday.com
or P.O. BOX 5182, Rockford, ILL, 61125-0182





International Affairs | Home | Books | CDs | Search | Contact Us | Donate



©2002-2013 Tradition in Action, Inc. All Rights Reserved