International Affairs
Trusting Moscow - Myth or Fantasy?

Toby Westerman
U.S. President George W. Bush is determined to strengthen the already close ties between Washington and Moscow during his upcoming February 24th meeting with Russian President Vladimir Putin. "As you know, Vladimir Putin and I have got a good personal relationship. I intend to keep it that way," Bush recently declared according to a British Broadcasting Corporation report.

Despite his resolve to keep Washington's relations with the Russian Federation positive, a series of individual events and continuing trends indicate that Washington and Moscow not only have, in Bush's words, "some disagreements," but that Moscow's actions threaten the fundamental security of the United States.

The U.S., however, seems unaware of the already existing conflict. For most of Washington's political elite, Russia is America's ally in the war on terror, a country with tremendous investment opportunity, and an increasingly important source for much needed oil and gas supplies.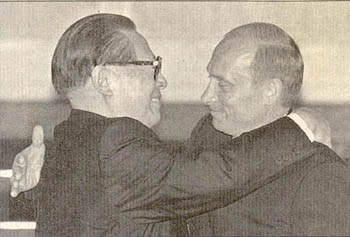 Moscow, July 16, 2001 - Russian president Vladimir Putin and Chinese president Jiang Zemin embrace during the signature of a treaty to counter the weight of the United States in global affairs. The last pact of this kind was signed in 1950 between Joseph Stalin and Mao Tse-Tung - Los Angeles Times, July 17, 2001

There is another side to relations with Moscow which are not being addressed by Washington political circles nor examined by the centralized media. Russian technology propels the pro-terror states of Cuba, North Korea, Syria, and Iran, and is the backbone of Communist China's awe-inspiring military buildup.

The result is that the U.S. is now threatened by long-range missiles from both North Korea and China, terror networks can turn to Syria for sophisticated chemical weapons, and the Communist Chinese military will soon threaten U.S. naval power in the Pacific. Iran's nuclear program and missile development will lead to Teheran's ability to strike at Europe or U.S. forces stationed in the Middle East and surrounding areas.

Russia and China are rapidly increasing their influence in Latin America, once "America's backyard." Both Russia and China are supporting the Marxist regime of Venezuelan President Hugo Chavez, with Russia in the process of fulfilling a long wish list of weaponry for Chavez.

Chavez is the close friend, personally and politically, of Cuban dictator Fidel Castro. Chavez also harbors dreams of becoming ruler of a united Latin American empire that would someday rival the United States. The large population, vast resources, growing technological aid from Russia and China, and increasingly leftist tendencies of the region combine to give Latin America the capability to fulfill Chavez' dream.

The risks involved in a close relationship with an increasingly authoritarian Russia, obsessed with its own "security," was recently the subject of an article in the German news daily Die Welt concerning a possible "strategic partnership" between Germany and Russia. The article was entitled "Der trojanische Bär," "The Trojan Bear."

Unfortunately, no similar discussion on the potential dangers of a close relationship with Moscow or the implications of Moscow's actions abroad is occurring among the U.S.



Posted December 27, 2004





Toby Westerman publishes
International News Analysis - Today
An investigative and uncompromising weekly analysis of the world situation

Contact T. Westerman at
www.inatoday.com
or P.O. BOX 5182, Rockford, ILL, 61125-0182





International Affairs | Hot Topics | Home | Books | Tapes | Search | Contact Us | Donate



©2002-2013 Tradition in Action, Inc. All Rights Reserved