Fatima Issues
The Secret of Fatima and
Cardinal Bertone's Visit to Madrid

Julio Alvear, Spain
Cardinal Tarcisio Bertone visited Madrid on February 4, 2009. He is the 'second man in the Vatican,' the Secretary of State of Benedict XVI. We did not, however, feel the joy that we should have before the arrival of such a high authority of the Church, who one might suppose was visiting our country to lighten the load – already quite heavy - of Spanish Catholicism before the advances of the anticlerical left.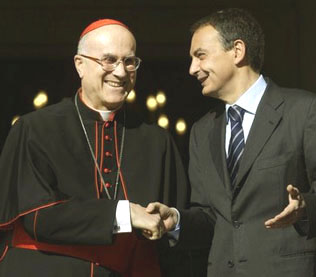 Zapatero agreed to a "constructive dialogue" - but made no concessions on the abortion law

According to well-informed observers, His Eminence came to try to reach some agreement with the government to prevent the future abortion law, which authorizes the unrestricted killing of babies up to 14-16 weeks. This law is being promoted by the Socialist "experts in humanity" in Congress.

Perhaps His Eminence came for this good cause. I would like to say that he did not visit simply to improve relations with a Socialist regime – as he did in Communist Cuba where he gave his support to the Castro tyranny – but rather to demand, without the spirit of dialogue, respect for the natural law and the Law of God.

But this didn't happen. And I cannot praise him – for his attitudes, diplomacy or words. Every time I saw him, I was reminded of that sequence of sleights-of-hand he has performed to make the prophetic message that the Mother of God announced in Fatima to the Church and the world disappear.

For example, his shameful interviews with Sister Lucy, the last seer of Fatima, in the last years before her death. Before, he had tried to prevent the meeting that Cardinal Albino Luciani asked to have with the known seer.

Then, there was his attempt to discredit Catholic writers in Italy who asked Benedict XVI, for the love of the Church, to reveal the Third Secret of Fatima because what was published in 2000 – thanks to the ruses of Cardinal Bertone, then secretary of the Congregation for the Doctrine of the Faith – was not the complete text.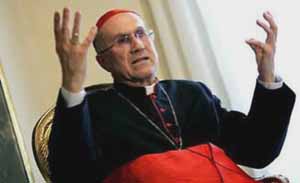 Sleights-of-hand to make the Fatima message disappear

I could continue this list but I won't. I don't intend to show the iceberg, just its tip.

I think that what His Eminence is worried about is raising a public debate about the general apostasy inside the Church caused by Vatican II, which, I believe, is the content of the Third Secret of Fatima.

But what His Eminence needs to consider is that he should not play with a message that came from Heaven. To touch what belongs to the Mother of God is to touch extremely dangerous hot wires. They protect the secrets of the justice of God. And God's justice may arrive late, but it never fails to come.

Popes throughout the 20th century - insofar as they were informed of the Fatima Message - expressed deep concern about it. However, the whole Church has been greatly damaged because the Third Secret was not revealed in the year 1960 – the date indicated by the Virgin. Instead, an order to silence its content was issued. And when in the year 2000, the Holy See decided to publish it (and Cardinal Bertone knows this better than anyone), the principal manuscript remained hidden.

For this reason, we are not excited about the visit of His Eminence. It reminds us too much of the compromises made by some of the highest personages of the Church to silence the Mother of God. Do they really believe that they can silence the Blessed Virgin forever?



Posted February 6, 2009




Julio Alvear first published this article in Spanish on his blog
La Reacción Católica
A site to oppose Progressivism in the Church






Related Topics of Interest




Papal Silence on the Fatima Apparitions

Conversion of Russia Negated by Vatican

Two Sister Lucys - Photos and Facts

The Progressivist Challenge to Fatima

Card. Oddi: Vatican II Was the Revolution in the Church

Forebodings about the Death of Sister Lucy

Our Lady of Fatima and the Third Secret

Related Works of Interest
Fatima | Traditionalism | Hot Topics | Home | Books | CDs | Search | Contact Us | Donate



©2002-2014 Tradition in Action, Inc. All Rights Reserved