Pedophilia Crisis

Pedophile Fr. Kramer
Another 'Pearl' from Müller's Past
The appointment of Gerhard Ludwig Müller (then Bishop, now Archbishop, soon-to-be Cardinal) as head of the Congregation of the Doctrine of the Faith (CDF) raises concerns on many fronts.


He is an ardent supporter of Liberation Theology, even
co-authoring a book
with the movement's "father," Peruvian Fr. Gustavo Gutierrez. He adheres to unorthodox doctrinal positions, such as
denying the perpetual virginity
of the Blessed Virgin and admitting that salvation can be found in false religions.
It is not just Catholics, however, who question this important appointment. Severe criticism has come from secular abuse groups like SNAP (Survivors Network of those Abused by Priests). It sternly censures Benedict XVI for promoting a Bishop who put a convicted child molester back into active ministry without warning the parishioners and the public.
That is in fact what Bishop Gerhard Müller did just eight years ago in 2004. It seems to me that Catholics should be aware of this other criminal action in Müller's résumé.
The Peter Kramer case
The Vatican seems to be pretending the Fr. Peter Kramer case simply does not exist. But it does, and this is the story.
Fr. Peter KramerP
Fr. Peter Kramer, a late vocation, was ordained in 1997 and stationed in the Bavarian town of Viechtach, Germany. Two years later, Fr. Kramer was removed from ministry for sexually abusing two boys. The family's silence was bought for about $3,000. The silence was allegedly to avoid further trauma for the boys. (1)
The incident remained hidden until early 2000, when the boys' father, after a nervous breakdown, told another person who reported the abuse to the police. In July 2000, a judge found Kramer guilty of pedophilia and sentenced him to three years' probation with the conditions he would undergo therapy and no longer work with children. The Diocese did not request the court report, but arranged for Kramer to see a therapist for two hours a month.
At first, the Diocese assigned Fr. Kramer to be the chaplain of a retirement home in Sunching. But soon, he was allowed to assist with children's liturgies at the nearby parish of Riekofen. In 2001 he had become its unofficial pastor, in charge of parish affairs, including working with children, in direct violation of the court order. No one in responsibility in the parish had been told anything about Kramer's past, so there seemed no reason for concern.
In 2002, two points of interest to our story enter the picture.
First
, the German Bishops issued guidelines specifying that no priests convicted of the sexual abuse of children – without exceptions – could be assigned to work with children.
Second
, Bishop Gerhard Müller was appointed Bishop of Regensburg, where Kramer's ministry was developing.
Müller reinstalls Kramer
In 2003 Fr. Peter Kramer's probation period ended, and the Diocese received a favorable report from the probation officer. The judge opined Kramer could be reinstated in a parish, but stipulated that he must be supervised and not work with children.
Bishop Müller called Kramer a dozen times to ask him if he had experienced any relapses, and Kramer always replied in the negative. Müller believed him…
So, in 2003 he appointed Fr. Kramer pastor of Riekofen, again without informing anyone about his criminal past or establishing any kind of supervision over him. What he should have done seems simple enough to figure out: He should have followed the order of the judge regarding Kramer. He also should have followed the 2002 general guidelines of the German Bishops and not appointed a convicted abuser to a position working with children.
Fr. Kramer became very popular in the parish. He was confessor to the altar boys and regularly treated them – especially his favorites – to movies, swimming parties and overnight trips to Munich. He also regaled them with wine and tobacco. He assured the parents it was better they learn to handle smoking and drinking openly with responsible adults than covertly with immature friends.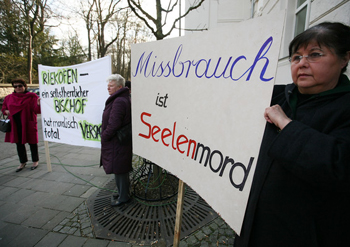 Parishioners at the Kramer trial
In July 2007, the father of the two boys Kramer had abused in Viechtach learned that the priest was again working with boys. He alerted parishioners and the media, and questions started to be asked. Boys revealed that they were being asked private questions in the confessional about their sexual organs, pubic hair and erogenous zones. But things did not stop there: one boy accused Kramer of constantly abusing him sexually between 2003 and 2006.
In August 2007, Fr. Peter Kramer was arrested by Riekofen police on suspicion of sexual abuse. A psychologist went to the village and other boys came forward with similar reports of abuse.
The parishioners were angry and demanded to know why Bishop Müller had not informed them about Kramer's past. The town Mayor accused Müller of covering up the priest's past, and parents complained that Müller's hasty rehabilitation of Kramer was "a cruel experiment with our children's souls."
B
ishop Müller's allegations
In his well-researched
case study
on the Fr. Peter Kramer case, Dr. Leon Podles exposes that Bishop Müller refused to take responsibility. Although he expressed sympathy for the victims at a news conference in September 2007, Müller always pretended that he had made no mistake.
He blamed Kramer and the diocesan staff. "The culprit bears the responsibility for the offense. I am not responsible for everything our clerics and coworkers do," he asserted, adding he could not control all the actions of his priests. He also blamed the therapist who claimed Kramer was cured, and the judge who did not send the report to the Diocese, even though the case was public and it was the Diocese's duty to request it.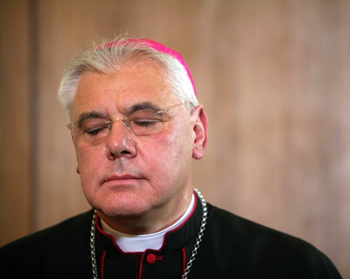 all these traditionalists condemned as heretics, as Müller suggests?
Further, he blamed the Riekofen parishioners for "slandering" him and threatened to initiate a legal action against them if the criticism did not stop. He claimed he was the victim of a campaign to discredit him, and arrogantly affirmed he did not need "lectures" from people who knew nothing about pastoral care.
Most appallingly, he compared his action to that of Christ, asserting, "If Jesus forgave even the worst sinners, how could one deny the pastor a second chance?" However, when Müller found this beautiful precedent to portray himself as blameless, he actually admitted he was responsible for the reassignment of Kramer.
Since Kramer had received a good report from his therapist, Müller pretended he did not violate the German Bishops' guidelines. This claim is evidently false, since those guidelines clearly stated no convicted abuser would work with children, without exceptions.
As Dr. Podles points out, today Archbishop Müller still refuses to listen to criticism, because, he affirms, "the only superior of a Bishop is the Pope and from that quarter I have heard no criticism."
Kramer convicted, Müller rewarded
In March 2008, Fr. Peter Kramer pleaded guilty to sexual abuse of one of the boys of the Riekofen parish. He was charged with abusing the ten-to-eleven-year-old boy 22 times during a period of two years (2004-2006). He was sentenced to three years in a state-run psychiatric facility. It was a light sentence, but at least he faced some consequences for his monstrous actions.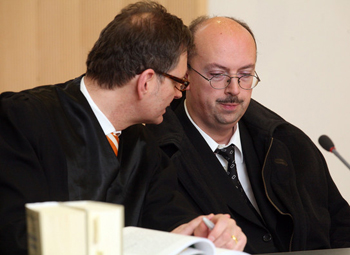 aDespite his efforts in 2008, Kramer's lawyer could not prevent a three-year sentenc
Bishop Müller's complicity resulted in tremendous damage to boys and their families. But for him, there were no consequences. His career, under the smile of his protector Pope Ratzinger, soared. In 2007, Müller was reappointed a member of the Congregation for the Doctrine of the Faith (CDF); in 2009 he became a member of the Pontifical Council for Culture. In 2012 he was appointed a member of the Congregation for Catholic Education and the Pontifical Council for Promoting Christian Unity.
And his topmost reward was received on July 2, 2012 when Benedict XVI appointed Müller Prefect of the CDF; at the same time he was named Archbishop.
This choice rubs salt in the wounds of Catholics world over who are still smarting from the never-ending scandal of pedophile priests and their cover-up by Bishops. As CDF head, Müller will be in charge of the clerical sex abuse portfolio, which has swollen with the explosion of cases in Europe in the last few years.
How can Catholics have confidence in a Prelate who so recently reinstated a priest convicted for pedophile crimes? Why would the Pope make such an appointment? In my view, it is proof that Benedict XVI and the Vatican do not take seriously the ongoing child sex abuse by priests crisis in the Church.
footnote 1
footnote 2
footnote 3
footnote 4
footnote 5

Posted October 8, 2013