I am very concerned about what's shown in these videos and think that everyone should view them so they realize how our children in public and private schools are being taught tolerance for the homosexual sin, the sin that cries out to Heaven for vengeance. I do not want my grandchildren being brainwashed by the pro-homosexual rot that is portrayed in these videos. What is happening in schools like these is an unpardonable crime committed by the State, as far as I am concerned. The State should obey God's Laws first and foremost in order to promote the common good for all, and not protect and promote special rights for those who selfishly demand that society become comfortable with their vices under force of law.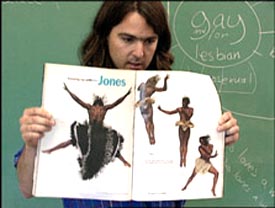 A teacher at Hawthorne Elementary School in Madison, WI, shows a homosexual male dancer for children to admire

As I watched these videos, I became very angry. And I immediately thought of Matthew 18:6: But he that shall scandalize one of these little ones that believe in me, it were better for him that a millstone should be hanged about his neck, and that he should be drowned in the depth of the sea.

It is very clear, in the words of Jesus Christ, Son of the Living God, that those diabolic individuals who are stealing the innocence of our children in classrooms like those shown in the videos below, barring repentance, are staring at an eternity in Hell with the Devil and his demons for company!

We must fight this abominable immoral rot propagated by the disciples of the Devil with every fiber of our being! Neither we nor our children are obliged to go to Hell with them. We cannot let our children be taken from us by selfish liars whose only concern is that their vice be promoted as virtue under force of law with particular emphasis on the recruitment of our innocent children.

There are no adequate words to describe these sub-humans who would turn every country on the face of the earth into pro-sodomite totalitarian States. How dare they be allowed to commit spiritual abortion on the souls of our children without an outcry loud enough to be heard in Heaven!

If we cannot get motivated to call our legislative representatives to stop the pro-sodomite hate crimes bill after watching these videos, then God have mercy on all of us, because we will deserve His final justice!

Below is the article by John–Henry Westen from the Life Site News website alerting people about the videos. There are links to the videos at the end of the article.



Homosexual propaganda fed to children


NEW YORK, April 24, 2007 (LifeSiteNews.com) - In a press release this morning, Stephen Bennett, a man who once lived the "gay" lifestyle and has since founded a ministry to assist people to leave the destructive lifestyle, alerted the media to a video clip demonstrating what he calls first-hand homosexual activist "brainwashing" of elementary school children. The video available on the Internet on Youtube.com follows a Massachusetts school's fourth annual gay and lesbian pride day activities.

The video contains actual classroom footage showing teachers imposing pro-homosexual propaganda on children as young as six. Beyond that the video captures a pre-gay pride day staff meeting where one teacher, an African American, asks if teachers are to tell children whose parents oppose homosexuality that they should nonetheless accept it as a good, to which an affirmative answer is given.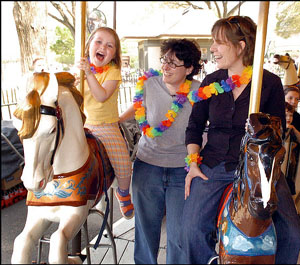 The homosexual activists portray lesbian
families as normal

A transcript of that portion of the video follows:

Unidentified African American female teacher: "I don't know what to do about this but, as a school are we saying that kids have to support this? I guess that's what it sounds like to me that we're saying. If a child comes from a background that says homosexuality is not correct, are we telling that child that they're supposed to, this is what you are supposed to do?"

Unidentified Caucasian female teacher, "I think that we are asking kids to believe this is right. Not as a matter of moral principal, but as a matter of, we're educating them and this is part of what we consider to be a healthy education."

Stephen Bennett told LifeSiteNews.com in an interview that he was "horrified" and "had tears in my eyes" after seeing the video. "It's so heartbreaking to see little kids brainwashed," he said.

Stressing that the video must been seen by all concerned parents, Bennett said, "this is what is happening to America's children - without many parents even knowing a thing. This is a crime against our children. Let the children be children!"

Amazingly, the video, while newly posted on the Internet, is a clip from a 1996 pro-homosexual film called It's elementary. While the first segment of the YouTube clip of the film covers Cambridge Friends School (CFS) in Massachusetts, a second clip covers New York City Public School 87 where similar propagandising occurs.

In the 1996 video, then CFS Principal Thomas Price notes that it is the school's fourth annual celebration of gay pride day.

Homosexual activists have reacted quickly to the publicity of their agenda and have discussed demanding YouTube to remove the videos. … Homosexual activists have themselves acknowledged, however, the veracity of the video clips as segments of the film It's elementary.



YouTube has pulled the clips but they are still available online here:

Part I - "Gay & Lesbian Pride" Day in Elementary Schools (Length: 8:59)

Part II - Role-playing in the Third Grade (Length: 6:31)



Posted April 25, 2007